Yellow Gazpacho with Smoked Almond & Parsley Gremolata
This sublimely cool and refreshing gazpacho is made with yellow tomatoes, which are slightly sweeter and less acidic than their red cousins. Topped with a crunchy and refreshing almond and parsley gremolata, this soup is destined to be your new summer staple!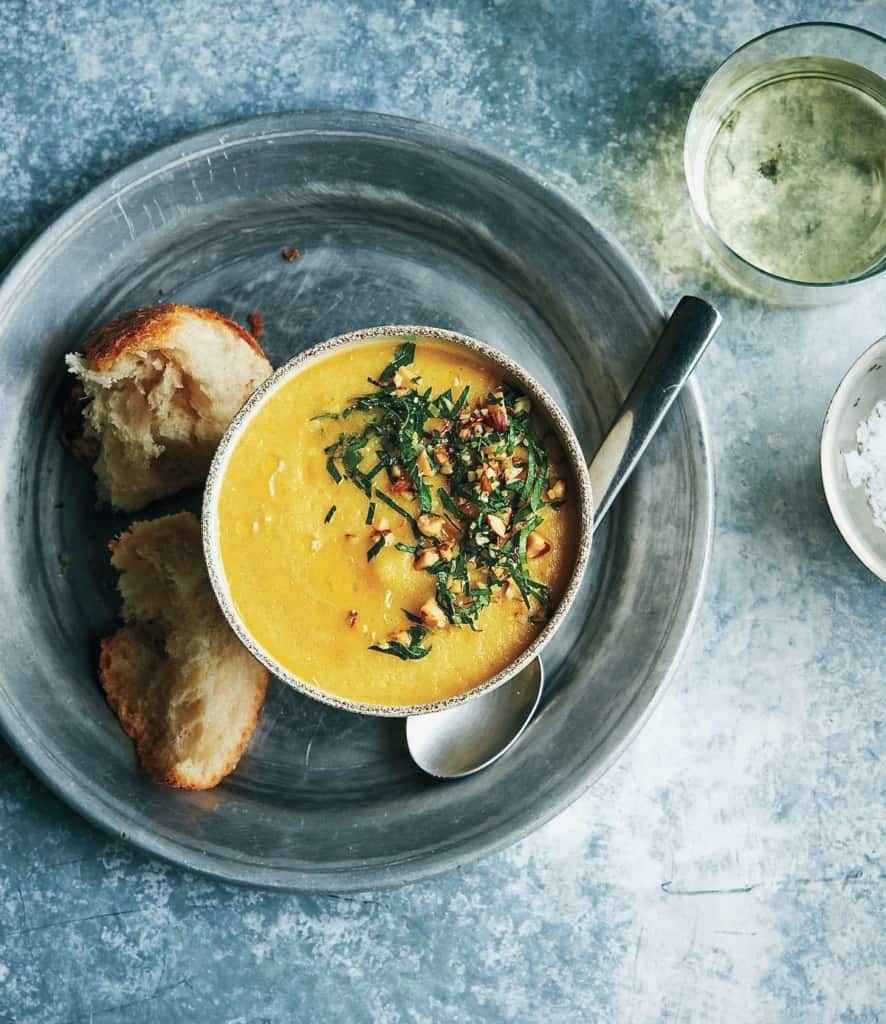 Let's get to the heart of the matter here. Does the thought of using yellow tomatoes instead of the usual red ones make you gasp? Take my advice: Don't be afraid to be different! It could be blasphemous to say this, but I think yellow tomatoes might make even better gazpacho than red tomatoes. They just aren't as acidic as their red cousins! They also puree into a brilliant color that transforms a classic soup into something new and thrilling. A small amount of turmeric not only bumps up the beautiful golden color but also makes the recipe even healthier.
A Little Tomato Know-How
It's key to get super ripe and delicious tomatoes, but generally, yellow and gold grape tomatoes are pretty reliable. When you get the tomatoes into the food processor or blender, be sure to puree them until they're very smooth—you want to break down the skins as much as possible to give you that gorgeous sunny color.
Olive Oil Matters!
Your olive oil makes the difference between a mediocre gazpacho and a great gazpacho. To achieve the ultimate velvety texture and full body, you want to use the best possible extra-virgin olive oil you can find or afford. How will you know? Taste the olive oil before you use it! Is it buttery and grassy, maybe even a touch bitter? That's the winner!
The olive oil in this recipe doesn't just add great flavor. It also adds a velvety texture as it's emulsified into the tomato puree. The trick? Drizzle the oil slowly into the mixture as it blends.
The Colder the Better!
As many of you might know, gazpacho gets even better as it sits, so if you can, make it a day or 2 ahead. Not only will it chill down in the refrigerator but the flavors will meld, resulting in a delightfully well-balanced soup. But don't forget the most important part: Serve it cold!
What is gremolata?
Gremolata (pronounced greh·mow·laa·tuh) is an Italian condiment or sauce that's most notably served with osso buco, which is a dish that features cross-cuts of veal shanks braised with wine, broth, and vegetables. The result is a wonderfully tender and succulent dish that's even better when topped with a vibrant and pungent gremolata. One of my favorite osso buco recipes is this one from chef Ethan Stowell.
Gremolata is typically made with parsley, garlic, and lemon zest. It's pretty intense on its own but it should be. I like it sprinkled on all sorts of dishes, like braised chicken, slow-roasted salmon, beef stew, and savory ricotta toast. For me, it truly is an all-purpose condiment. Here, I incorporate one of my secret ingredients: store-bought smoked almonds! They lend an awesome crunch and intense flavor to this simple dish.
This recipe is featured in my cookbook, Just Cook It!: 145-Built-To-Be-Easy Recipes That Are Totally Delicious, but you can check out both of my cookbooks here.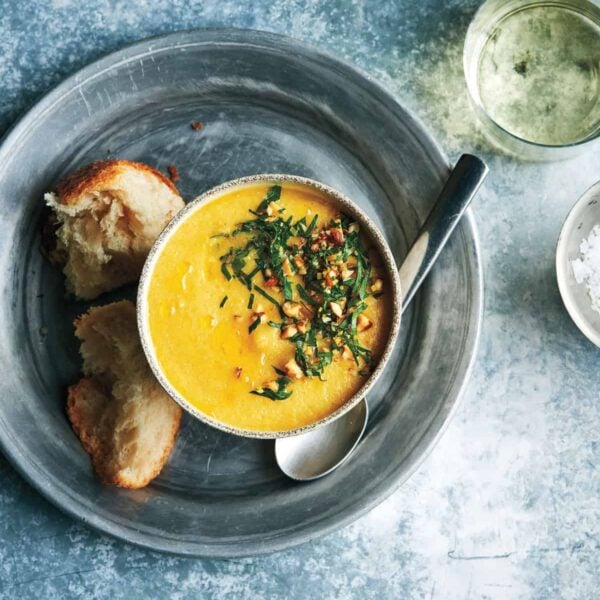 Yellow Gazpacho with Smoked Almond & Parsley Gremolata
Sweet yellow tomatoes puree into the most brilliant and sunny gazpacho. Topped with a crunchy and refreshing almond and parsley gremolata, this soup is destined to be your new summer staple!
Ingredients
3 10-ounce containers yellow or gold grape tomatoes
2 garlic cloves, crushed
1/4 teaspoon turmeric powder
1/4 teaspoon freshly ground white pepper
1/4 cup extra-virgin olive oil, plus more for drizzling
Kosher salt
1/2 cup smoked almonds
1/2 cup lightly packed fresh parsley leaves
3/4 teaspoon finely grated lemon zest
Instructions
In a blender or food processor, combine the tomatoes, 2 tablespoons water, 1 garlic clove, the turmeric, and the white pepper and puree until the gazpacho is very smooth (you want to break down the skins as much as possible to give you a gorgeous color), 1 to 2 minutes. With the machine on, drizzle in the olive oil until emulsified. Season the soup generously with salt. Transfer to an airtight container and refrigerate for 1 hour.

In a food processor (a little one works great here), combine the almonds, parsley, lemon zest, the remaining garlic clove, and a generous pinch of salt. Pulse until the almonds and parsley are finely chopped. Transfer to a small bowl.

Ladle the gazpacho into bowls. Sprinkle some of the gremolata on top and drizzle with a little olive oil. Serve right away, passing more gremolata at the table.
Notes
Do It Ahead:  The gazpacho can be refrigerated in an airtight container for up to 3 days. YELLOW GAZPACHO WITH SMOKED ALMOND & PARSLEY GREMOLATA is excerpted from JUST COOK IT! © 2018 by Justin Chapple. Photography © 2018 by David Malosh. Reproduced by permission of Houghton Mifflin Harcourt. All rights reserved.