Grilled Rib-Eye Steaks with Olive-Pepper Salsa Verde
Crushed Castelvetrano olives, hot chili peppers, and non-pareil capers create a bright and briny upgrade to salsa verde, which positively sings on juicy, smoky grilled rib-eye steaks. My advice? Keep this salsa recipe in your back pocket to elevate your rib-eyes and so many other dishes throughout the summer and beyond.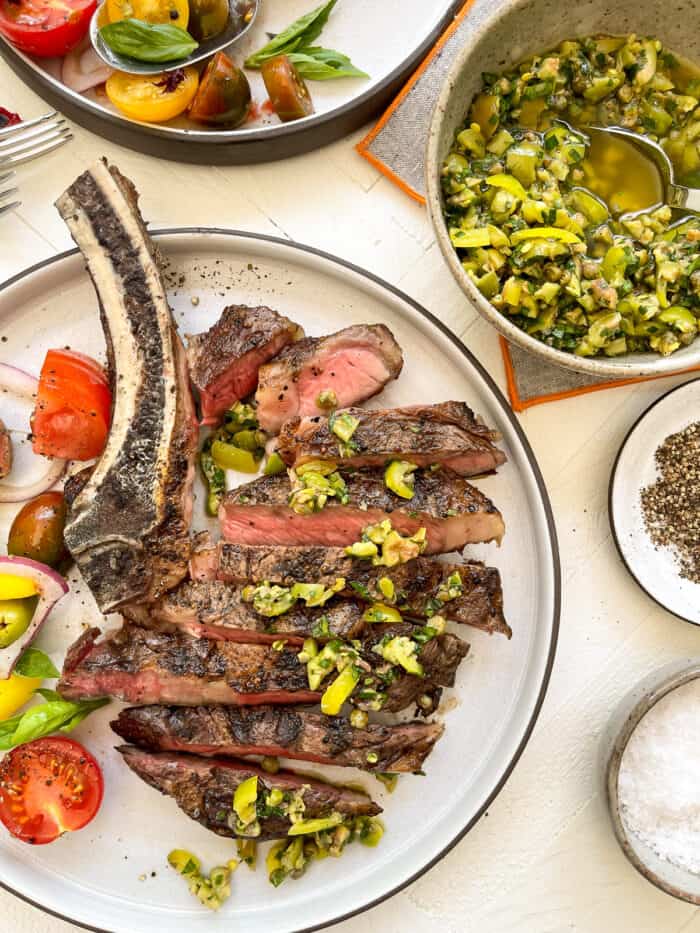 Who doesn't love sitting outdoors to a thick juicy steak right off the smoky grill, a chilled martini in hand, and the sun still high in the sky at 8 pm? It's an essential rite of summer! But while there's no question that most grilling happens in the summer, a hearty steak like a rib-eye is just as well suited to spring, winter, and fall as anything. Not to mention that this salsa verde doesn't rely on classic summer ingredients so you won't be chasing down the perfectly ripe tomato or fleeing farm-fresh corn on the cob. Yet even without those seasonal mainstays, with its bright and briny flavors, this salsa is the star of any summer table.
How to Choose a Great Steak
When buying your steak, look for good color and a moist (but not wet) surface. If you're purchasing the steaks pre-packaged, ensure there isn't too much liquid pooling in the package, and always check the expiration date. I love rib-eyes because they're incredibly flavorful and nicely marbled, making them well-suited to grilling, but you can pair this salsa verde with any steak of your choosing! In my opinion, the next best steaks to serve with this salsa verde are t-bone and New York strip steaks. You can give my spiced grilled t-bone steaks a whirl, or the 3-minute steaks from my cookbook, Just Cook It. For the best grill-ability, look for steaks on the thicker side and make sure they're bone-in. Let your steaks sit at room temperature for about 30 minutes, which yields a more tender and evenly cooked piece of meat.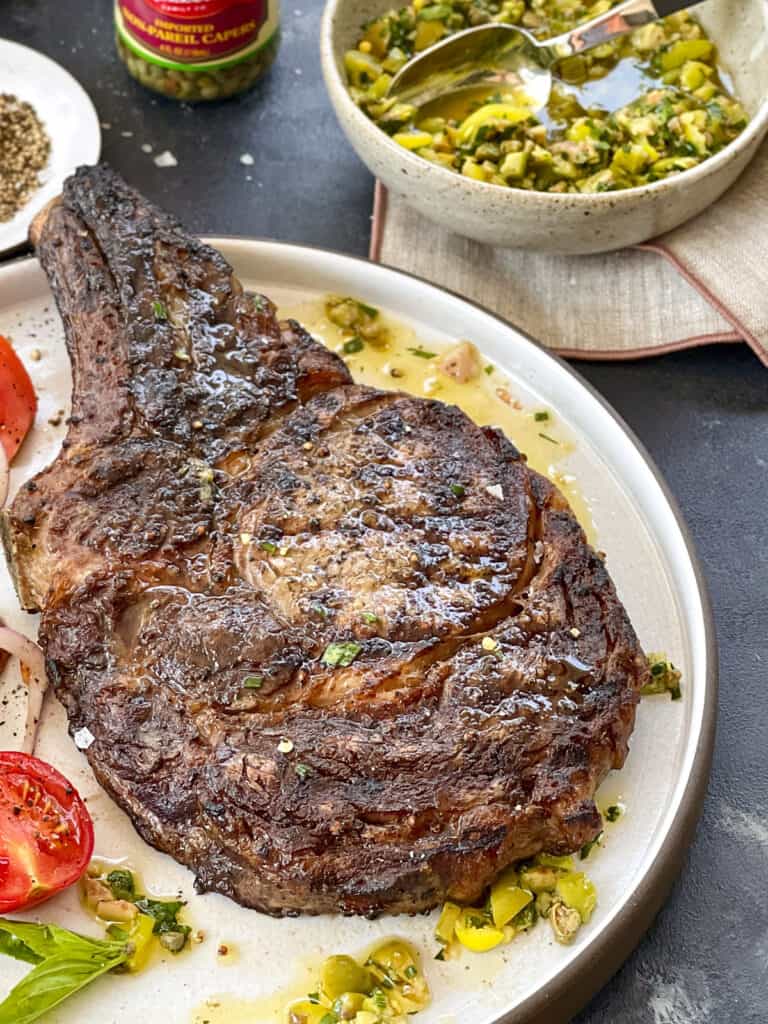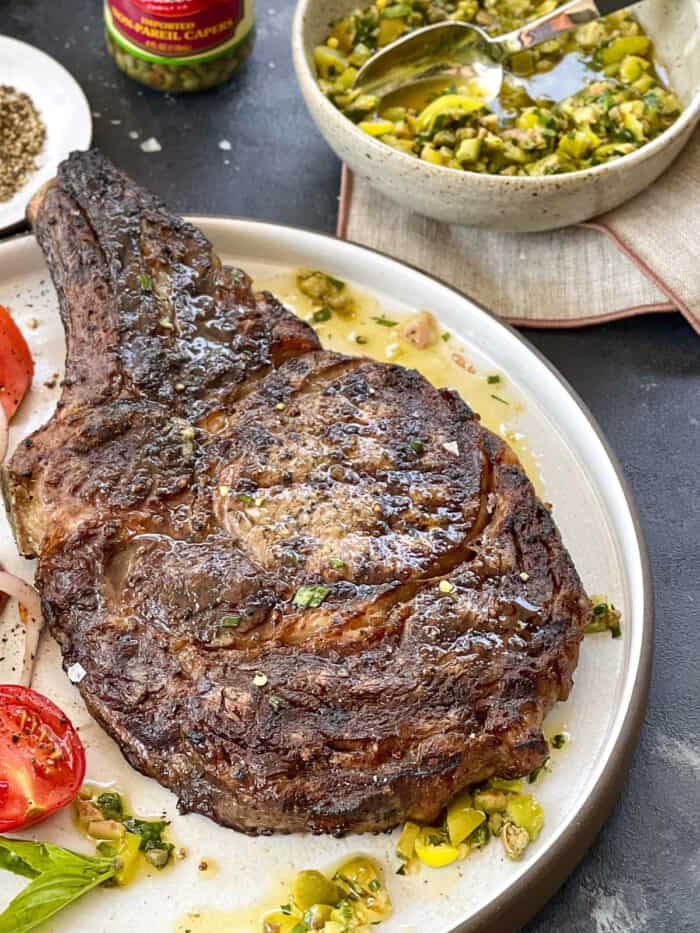 Grilled Rib-Eye Steaks are Great, But It's All About the Salsa!
This salsa verde brings a knock-down punch of flavor to just about anything you serve it with. That's what happens when you combine a powerhouse mix of ingredients like olives, fresh hot chilis, capers, lemon, anchovy, garlic, and herbs. I love it on grilled rib-eye steaks, but it's also crazy good on grilled chicken, pork, and fish, such as hearty halibut and buttery Chilean sea bass. You can also serve the salsa verde alongside grilled veggies, and don't be afraid to spoon some over toasty crostini to start a meal. It's your summer chameleon!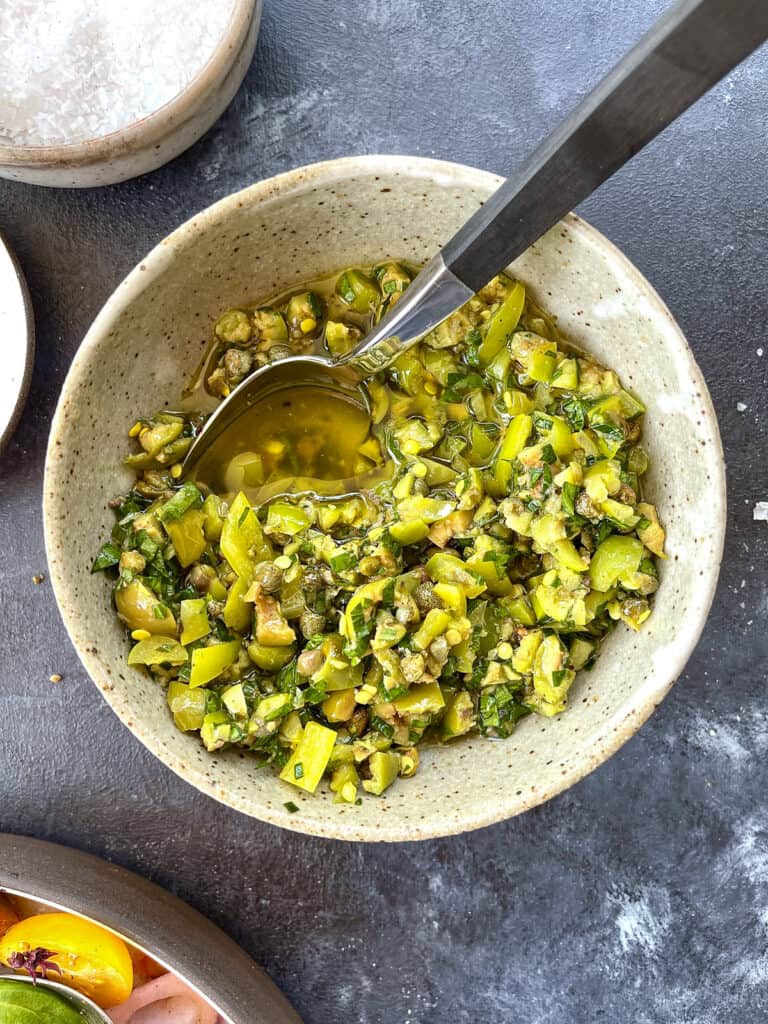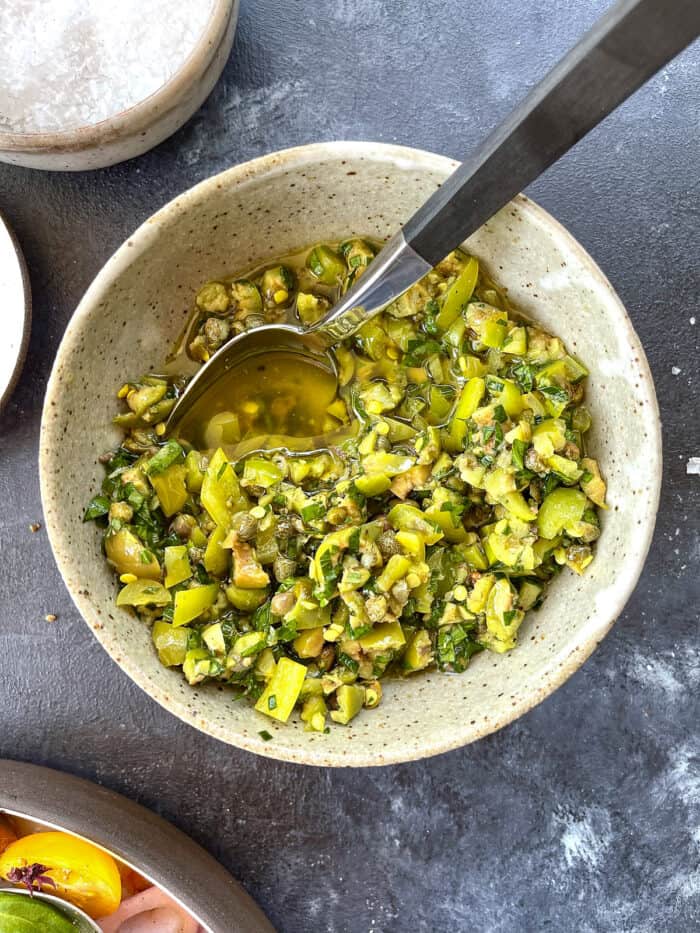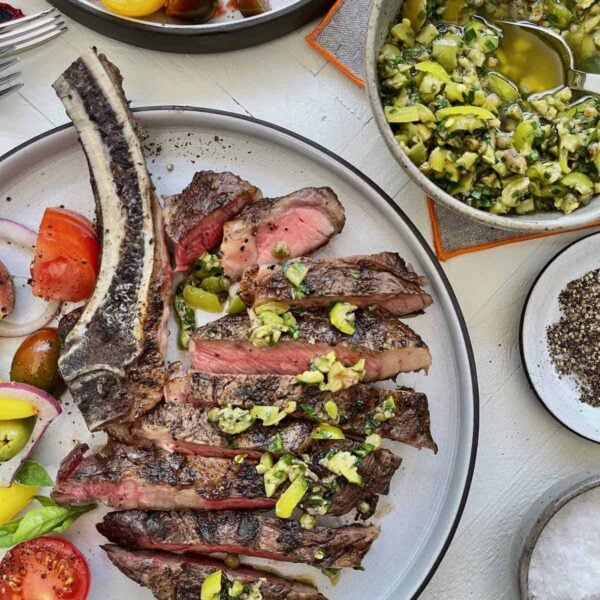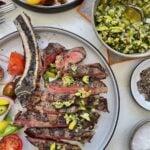 Grilled Rib-Eye Steaks with Olive-Pepper Salsa Verde
Juicy and smoky grilled rib-eye steaks are given a briny and bright upgrade with a delicious riff on salsa verde, which features crushed Castelvetrano olives, hot chili peppers, and non-pareil capers. This salsa truly elevates an ordinary grilled steak so that it screams summer even when it's autumn, spring, or fall.
Ingredients
Two 1 1/4 pound bone-in rib-eye steaks
Kosher salt
Freshly ground black pepper
1 cup Castelvetrano olives, pitted and crushed
1/2 cup hot green or yellow chili peppers, stemmed and finely chopped, (such as Mezzetta)
2 tablespoons non-pareil capers, drained and chopped
1 tablespoon fresh lemon juice
3 anchovy fillets, minced
1 garlic clove, finely grated
1/2 cup extra-virgin olive oil
1/3 cup minced parsley
1/4 cup minced chives
Instructions
Season the steaks with salt and pepper. Let stand at room temperature for 30 minutes.

Preheat a grill to high. In a medium bowl, mix the olives with the peppers, capers, lemon juice, garlic, and anchovies. Gradually stir in the olive oil, then fold in the parsley and chives. Season the salsa verde with salt and pepper.

Grill the steaks over high heat, turning a few times, until an instant-read thermometer inserted in the thickest part of the meat registers 120 degrees F, 10 to 12 minutes. Transfer to a carving board and let rest for 10 minutes.

Carve the steaks off the bone and then carve the meat against the grain. Transfer to a platter and serve with the salsa verde.