Roman Goddess Soup with Frizzled Artichokes
This healthy, plant-based soup is loaded with tasty veggies and herbs, resulting in a vibrant, fresh, and amazingly earthy soup. As if that isn't good enough, the crispy pan-fried artichokes on top are so amazing that you might want to make extra just for snacking.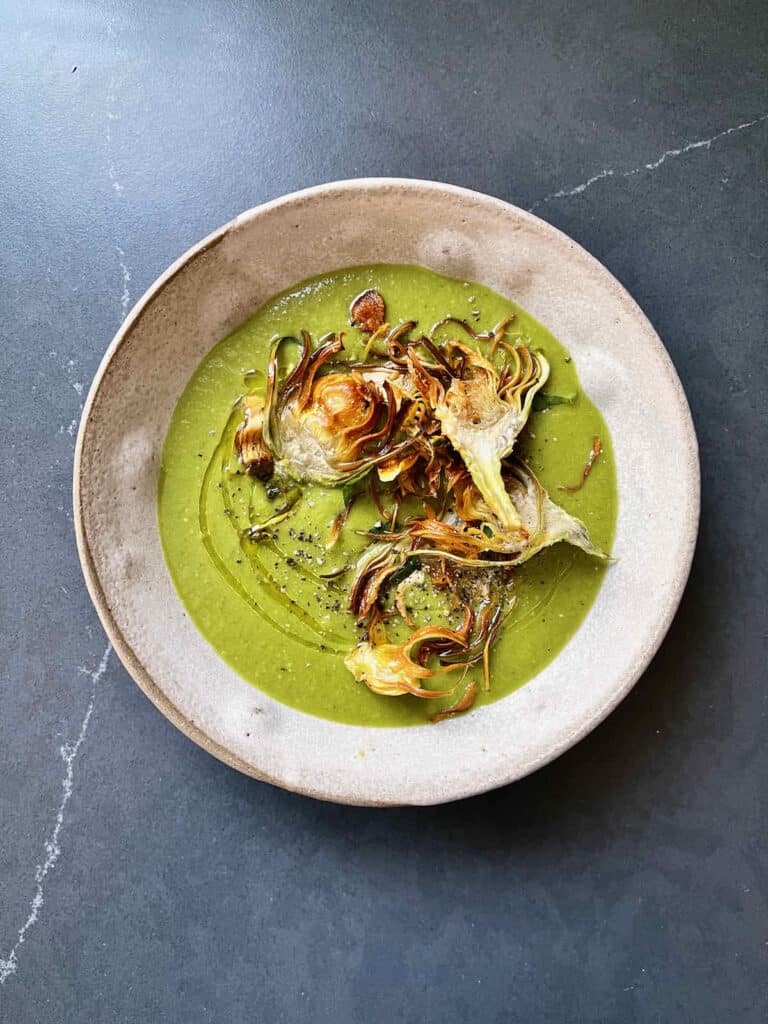 All of the green goodness that is this tasty soup was inspired by the Roman goddess Ceres. She was the goddess of the growth of edible plants, and responsible for the fertility of the land. Ahem, this is no small thing! I only hope that if Ceres could taste this soup, she'd agree that it's fit for a god(dess!).
Well I'm no goddess, but this totally delicious, mega-green soup gives me all of the feels, with broccoli, spinach, parsley, basil and scallions. It's fresh, hearty, and a little tangy too. But let's get to the heart of the matter (haha, pun intended), and that's the crispy, salty, irresistible frizzled artichoke hearts that you pile on top of this soup. They're like the ultimate crouton…but even better!
MY ARTICHOKE LOVE STORY
When I was growing up in California, artichokes were an everyday kind of food. During high school, I'd drive across town to my favorite lunch spot, Manny's California Fresh, for whole steamed 'chokes that I'd dip, leaf by leaf, in butter and vinegar, then scrape between my teeth. That nutty, starchy flavor was heaven to me.

Eventually, I turned to online cooking videos to learn how to "butcher" raw artichokes so I could cook the prickly little beasts at home. Yes, you read that right: they can be prickly beasts! It takes patience, confidence and care to get to the good stuff—that magical little artichoke heart. But boy, it's worth the effort to get to there! I used to spend a full hour just cutting out enough hearts for a single batch of my favorite diner-style artichoke dip.

The good news here is that this recipe only calls for 8 baby artichokes! My advice: use a sharp knife to make easy work of your artichokes. If you're new to this, you might also want to set up a medium bowl of cool water and squeeze half of a lemon in it. As you finish trimming each artichoke, keep the hearts in the acidulated water so they don't brown. I promise that you will be happy with the effort these take.
TO BE OR NOT TO BE…VEGETARIAN
This is a spectacular vegetarian soup, made with prepared vegetable broth and tons of veggies and herbs. You can even make it vegan by swapping the full-fat yogurt for vegan yogurt. Or, if you want to go in a different direction and staying vegetarian isn't important, you can also use chicken stock or low-sodium chicken broth. However you decide to make this soup—and I highly recommend that you do—don't forget to share it on Instagram! Also, don't forget to rate the recipe below!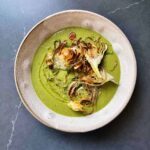 Roman Goddess Soup with Frizzled Artichokes
Inspired by the Roman goddess Ceres, this healthy and plant-based soup has a vibrant green color and earthy flavor. The crispy frizzled artichokes add wonderful flavor and texture.
Ingredients
SOUP
¼ cup extra-virgin olive oil, plus more for drizzling
1 white onion, halved and thinly sliced
4 garlic cloves, finely chopped
Kosher salt and freshly ground pepper
1 quart vegetable broth
1 pound broccoli, crowns chopped and stems peeled and sliced
2½ ounces baby spinach, (4 cups)
1 cup parsley leaves
1 cup basil leaves
3 scallions, chopped
1½ tablespoons fresh lemon juice
½ cup full-fat plain or vegan yogurt, plus more for serving
ARTICHOKES
8 baby artichokes
Canola oil, for frying
Finely grated zest of 1 lemon
¼ cup parsley leaves, finely chopped
Hungarian paprika, for sprinkling
Instructions
Make the soup:
In a large enameled cast-iron Dutch oven, heat the olive oil until shimmering. Add the onion and garlic and season with salt and pepper. Cook over medium heat, stirring occasionally, until softened and barely browned, 5 to 7 minutes. Add the broth and bring to a boil over high heat. Add the broccoli and a generous pinch of salt. Cover and simmer over medium heat until the broccoli is tender, about 10 minutes.

Remove the Dutch oven from the heat and stir in the spinach. Working in batches if necessary, ladle the soup into a blender and add the parsley, basil and scallions; puree until very smooth. Return the soup to the Dutch oven and cook over medium heat, until steaming. Stir in the yogurt and lemon juice and season with salt and pepper.
Meanwhile, make the artichokes:
Trim and discard the top 1/2 inch from the artichokes. Remove and discard any dark outer leaves and peel the stems. Using a large knife, very thinly slice the artichokes lengthwise.

In a large enameled cast-iron braiser or Dutch oven, heat 1 inch of canola oil until shimmering. Line a large baking sheet with paper towels. In batches if necessary, fry the artichoke slices over medium-high heat, stirring occasionally, until browned and crisp, 4 to 5 minutes. Using a slotted spoon, transfer the frizzled artichokes to the prepared baking sheet to drain; sprinkle with salt.

In a medium bowl, toss the frizzled artichokes with the lemon zest and parsley; season to taste with salt and pepper.

Ladle the soup into bowls and top with the frizzled artichokes. Drizzle with olive oil, sprinkle with paprika, and serve, passing more yogurt at the table.