Who doesn't love an easy sheet pan chicken dinner? This irresistible meal, with its crispy chicken and crunchy, chewy sourdough croutons, will appeal to the whole crowd! Even better, you can assemble it all ahead of time and pop it into the oven when you're ready.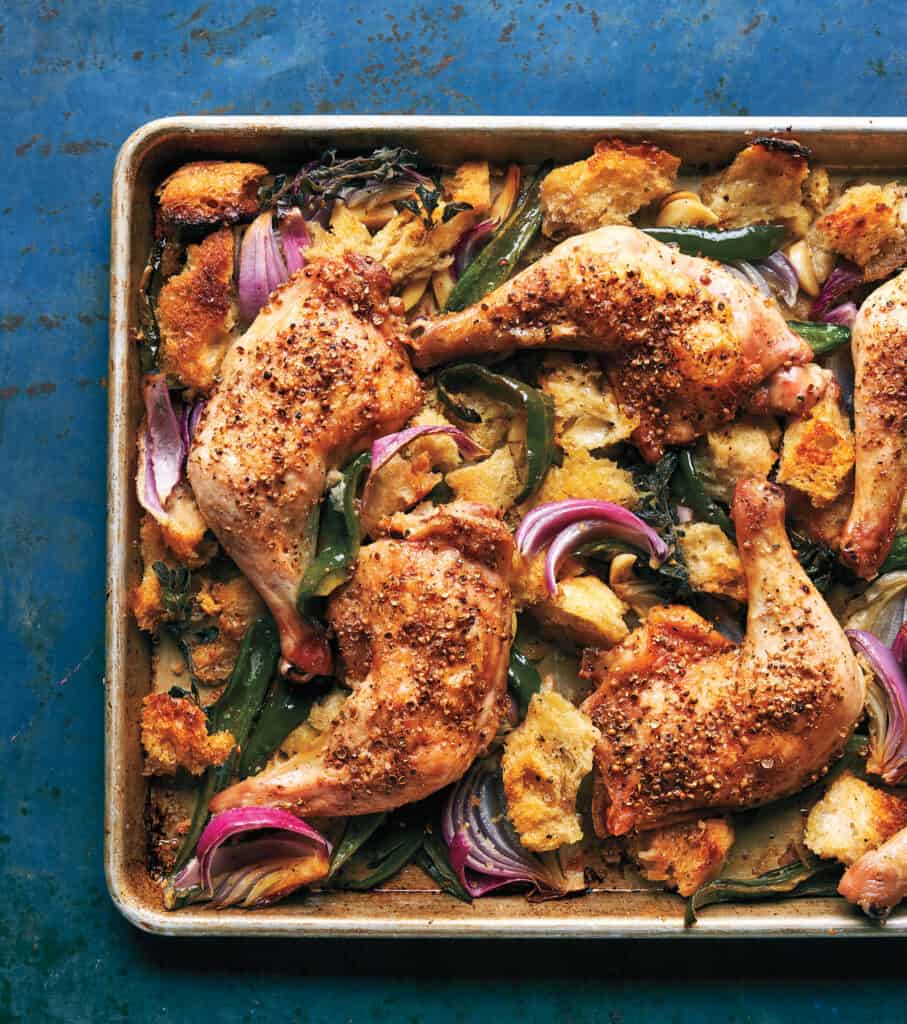 This is by far my favorite way to roast chicken legs—or any part of the chicken, really, because it creates the ultimate one-pan meal. And if you love croutons as much as I do, you'll appreciate the genius move of roasting the chicken on top of bits of torn sourdough. What happens is the bread absorbs all of the rich pan juices and a little bit of the fat from the bird, turning it addictively chewy on the inside and supremely crispy on the edges--the crouton of your dreams. 
About the Veggies
To make this into a true one-pan meal, I like including some veggies. (To know me is to know I love my veggies.) I love adding red onions and poblano peppers, which develop a soft, sweet, gentle flavor when they roast, rounding out the chicken just perfectly. Are you sold yet? Gosh, I would be! One quick note about the chiles here: if you can't find poblanos (they're the large, dark green, slightly heart-shaped pepper available at most markets), you can also use cubanelles or another thin-skinned pepper.
A Little Info on Coriander
If you don't have coriander seeds in your pantry, I think it's time to fix that! Coriander seed is a little citrusy and floral, and its flavor intensifies upon toasting. Crushed coriander seeds (which I call for to season the chicken here) lend a fresher flavor than ground coriander, plus they add a fun crunchy texture. To crush them, put the seeds in a small resealable plastic bag and pound them lightly with the bottom of a small skillet. You don't HAVE to use them, but I promise the cracked coriander adds something magical to this chicken that you will love. 
My Original Sheet Pan Chicken!
I have been making sheet pan chicken dinners, baked with croutons and other tasty ingredients, long before I created the recipe on this page. My original version was created for my column in Food & Wine magazine and has since become a pretty popular video. If you have time, give it a watch before you start dinner.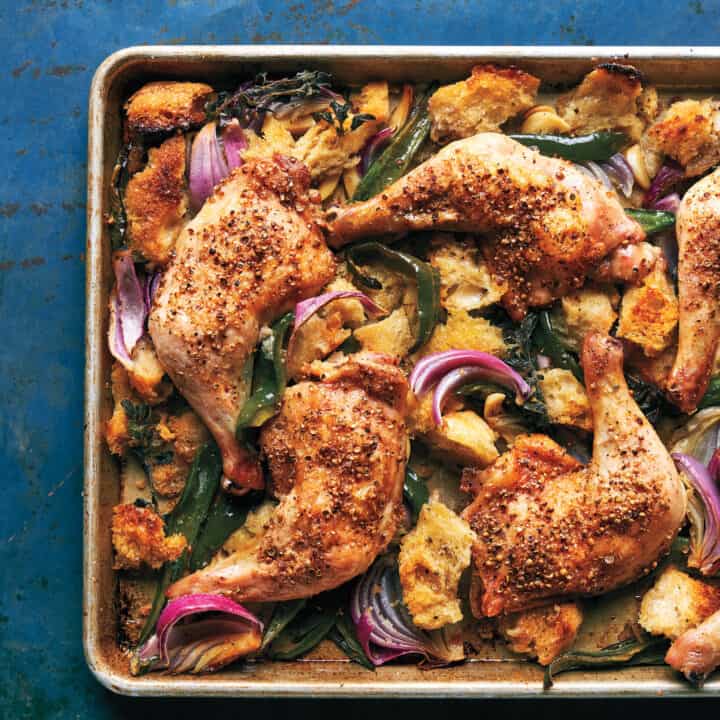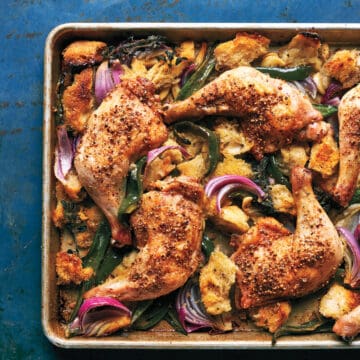 Roasted Chicken Legs with Sourdough Bread & Poblanos
It might sound like the crispy roasted chicken is the star of this ultimate one-pan dinner, but I'd beg to differ! It's actually the crunchy, chewy sourdough croutons that get baked underneath the chicken, absorbing all of the delicious chicken juices.  
Ingredients
½

pound

sourdough or other rustic bread, crusts removed and bread torn into 1 ½-inch pieces

¼

cup

extra-virgin olive oil, plus more for brushing

4

poblano peppers, cut lengthwise into 1-inch strips and seeded

2

red onions, cut through the core into 1-inch wedges

12

garlic cloves, halved 6 fresh oregano sprigs

Kosher salt and freshly ground black pepper

6

whole chicken legs (2 ¾ pounds)

2

teaspoons

crushed coriander seeds

(see Note)

Lime wedges, for serving
Instructions
Preheat the oven to 425°F.

On a large rimmed baking sheet, toss the bread with the olive oil, poblanos, onions, garlic, and oregano. Season generously with salt and black pepper. Lightly brush the chicken legs with olive oil and season with salt, black pepper, and the crushed coriander.

Place the chicken on top of the bread and vegetables. Roast for 50 to 55 minutes, until the vegetables are tender and an instant-read thermometer inserted into the thickest chicken thigh registers 160°F. Transfer the chicken, bread, and vegetables to plates and serve with lime wedges.
Notes
Do It Ahead: Once assembled on the baking sheet, you can refrigerate the uncooked chicken and vegetables for a few hours or overnight. Let stand at room temperature for about 20 minutes before roasting.
Note: Crushed coriander seeds lend a fresher flavor than ground coriander; plus, they add fun crunchy texture. To crush them, put the seeds in a small resealable plastic bag and pound them lightly with the bottom of a small skillet.
Did you make this recipe?
Tag @justinchapple on Instagram along with your picture!