Farro & Black Bean Chili with Swiss Chard & Jack Cheese
This spicy chili gets a good kick from smoky chipotles and amazing heartiness from a mix of black beans and deliciously chewy farro. It's also very versatile. If you don't like farro, use barley. Not feeling the Swiss chard? Swap in spinach instead! And any bean you like will be quite content in this chili. Either way, this farro and black bean chili will rock your world.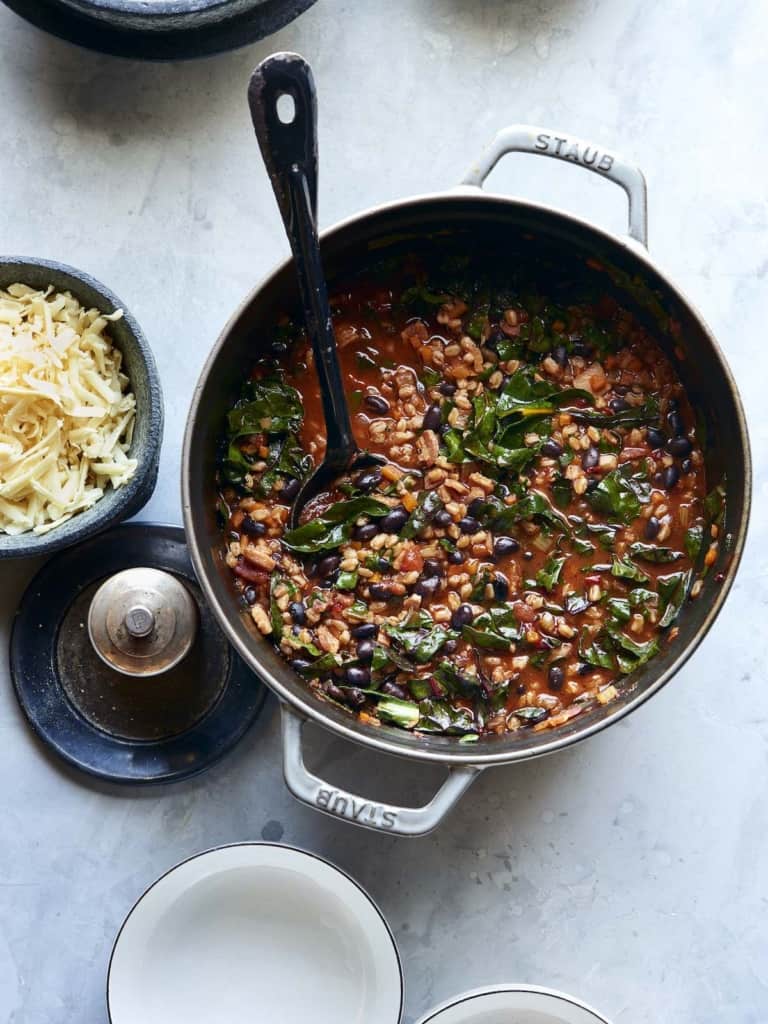 There are literally hundreds—if not thousands—of chili recipes out there in the world. But none is like mine! This spicy, zesty chili combines smoky bacon and chipotles in adobo with black beans and pleasantly chewy farro. I love rounding it out with fresh Swiss chard and the perfect melting cheese, Monterey Jack.

I am not about to argue about what makes a "chili" and "chili," and not just a stew. Some people say it's gotta have meat and meat alone, while others are okay with beans. Everyone more or less agrees that chili has to have chile peppers. So there's ya go, I'm pointing to the chipotles here and calling it: This recipe is a chili.
Now that we've gotten that out of the way, I'll bring up another point: Who woulda thought putting farro in chili could be a thing? Well, ladies and gents, I thought of it, and I couldn't be happier with the result. Farro, if you don't know, is a high-fiber, high protein ancient wheat grain, and if you're not cooking with it, now is the time to start! It cooks up nice and chewy and I love it. If you have a hard time finding pearled farro (aka quick-cooking), barley makes a good swap.
I originally created this farro and black bean chili recipe for my cookbook, Just Cook It!: 145-Built-To-Be-Easy Recipes That Are Totally Delicious, but I riff on it so often that I must've made a thousand different variations. The versatility and adaptability of it is partly what makes it so amazing.
A Word About the Meat
As you're gathering your ingredients for this chili, you might be asking yourself why I don't use meat at all, save for the bacon. The thing is, that bacon adds just enough smoky meatiness that you don't need to use beef or turkey. You'll see that the beans and farro are just as satisfying! That said, if you want to add another meat, stick with ground meat and cook it along with the bacon. Alternately, you can stir shredded cooked chicken in at the end.
First: Prep Your Veggies and Bacon
I know you've heard this before, but start by having all of your ingredients prepped and ready before you start cooking. This term, called "mise en place," is the golden rule in professional kitchens around the world. For good reason: It makes cooking seamless! I use a very sharp knife to chop up the veggies, then set them aside in a bowl. That sharp knife will also help with the bacon, which can turn into a mangled mess under a dull knife (admit it, we've all been here before). My trick for cutting bacon easily? Freeze it for 20 minutes first, which firms it up just enough to make chopping easier.
Next: Cook the First Round of Ingredients
Get your saucepan nice and hot and render the bacon—you don't want it crisp, just nice and soft, with the fat glistening in the pot. Add the veggies and cook to soften them before adding the farro, tomatoes, and chipotles in that smoky and tangy adobo sauce. Be prepared to smell heaven at this point! Then add the broth and let it simmer and meld together to create the base of this crazy good farro and black bean chili!
Finish Up: Stir in the Swiss Chard and Beans
After ONLY 20 minutes (did I mention that this chili cooks so quickly?), stir in your Swiss chard and black beans and simmer for a few minutes more. Grab some deep bowls and ladle that chili right on in. Don't forget to sprinkle with Monterey Jack cheese for an ooey gooey finish! This is the perfect fall or winter dinner but be sure to check out more of my dinner recipes for a little inspiration.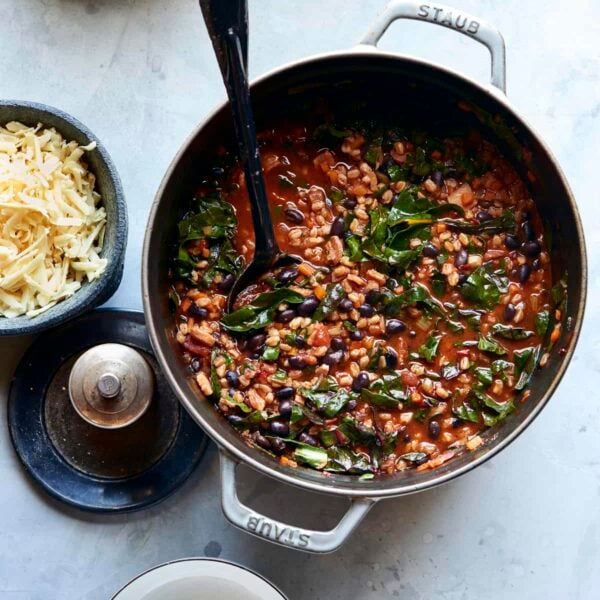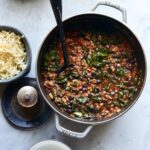 Farro & Black Bean Chili with Swiss Chard & Jack Cheese
This spicy chili gets a good kick from smoky chipotles and amazing heartiness from a mix of black beans and deliciously chewy farro.
Ingredients
2 tablespoons extra-virgin olive oil
4 thick-cut bacon slices, chopped
1 red onion, finely chopped
1 medium carrot, finely chopped
1/2
1 medium celery stalk, finely chop
Kosher salt
1 cup pearled farro (aka quick-cooking farro)
1 15-ounce can diced tomatoes
2 canned chipotles in adobo, seeded and minced, plus 2 tablespoons adobo sauce from the can
1 quart low-sodium chicken broth
1/2 pound Swiss chard, thick stems trimmed, leaves and thin stems chopped
1 15-ounce can black beans, drained and rinsed
Shredded Monterey Jack cheese, for sprinkling
Instructions
In a large saucepan, heat the olive oil over medium heat. Add the bacon and cook, stirring occasionally, until rendered but not crisp, about 5 minutes. Add the onion, carrot, celery, and a generous pinch of salt. Cook, stirring occasionally, until the vegetables are softened, about 7 minutes. Add the farro, tomatoes, chipotles, and adobo sauce. Cook, stirring, until bubbling, about 2 minutes. Stir in the broth and bring to a boil over high heat, then cover partially and simmer over medium heat, stirring occasionally, until the farro is tender, about 20 minutes.

Stir the chard and beans into the saucepan and simmer until the chard is tender and the beans are heated through, about 5 minutes. Season the chili with salt and pepper.

Ladle the chili into bowls andserve hot, sprinkled with shreddedMonterey Jack.
Notes
Do It Ahead: The chili can be refrigerated in an airtight container overnight. Reheat in a saucepan over medium heat, stirring occasionally, until hot; add a bit of water if too thick. FARRO & BLACK BEAN CHILI WITH SWISS CHARD & JACK CHEESE is excerpted from JUST COOK IT! © 2018 by Justin Chapple. Photography © 2018 by David Malosh. Reproduced by permission of Houghton Mifflin Harcourt. All rights reserved.