Smashed Cucumber and Bean Salad
This smashed cucumber and bean salad is topped with soft-boiled eggs, making it the perfect lunch of light dinner. Smashed cucumbers have nooks and crannies that soak up the tangy dressing.
If you ask me, it's never not the perfect time for a crunchy and crisp cucumber salad. If I were to show you a list of every recipe I've ever developed, I think it'd be clear that cucumbers—specifically Persian—are one of my all-time favorite ingredients. They are impossibly juicy and crisp while also having less seeds than other cucumbers. Plus, the skin is thin and peeling isn't required. My favorite way to eat them? Smashed! You will soon be addicted yourself!
Wait, why smashed cucumber?
So, why smash cucumbers? I mean, dicing or slicing is much easier, right? Perhaps so, but gently smashing them releases their aroma and creates nooks and crannies that soak up whatever dressing you toss them with. Heck, you can even skip the salad altogether and stir-fry the crackly bits of cucumber in a bit of canola oil, then finish them off with a little soy sauce and sesame oil… delish!
I've been smashing cucumbers for a long time. I like to believe I've been doing it long before it was popular in food magazines and on blogs, but I cannot know for sure, so we'll just pretend that's accurate. I developed a crushed cucumber salad for my cookbook, Just Cook It!, which I dress with fresh lime juice and spicy sambal oelek, then I fold in torn basil and sliced scallions. It's a bright and summery salad you will love. Another version I created for Food & Wine is much more similar to the recipe here. It's packed with protein from butter beans and gets a wonderfully delicate anise flavor from fresh tarragon. Be sure and check out that recipe when you get a chance!
Get smashing!
For this recipe, you won't need many ingredients. As long as you have cucumbers, you can really substitute everything else with whatever you have on hand. Don't have cannellini beans? Use chickpeas! No dill? Use parsley or cilantro! Don't like raw onion? Leave out the shallot! This is about combining the things you love with crackly, smashed cukes and diving in.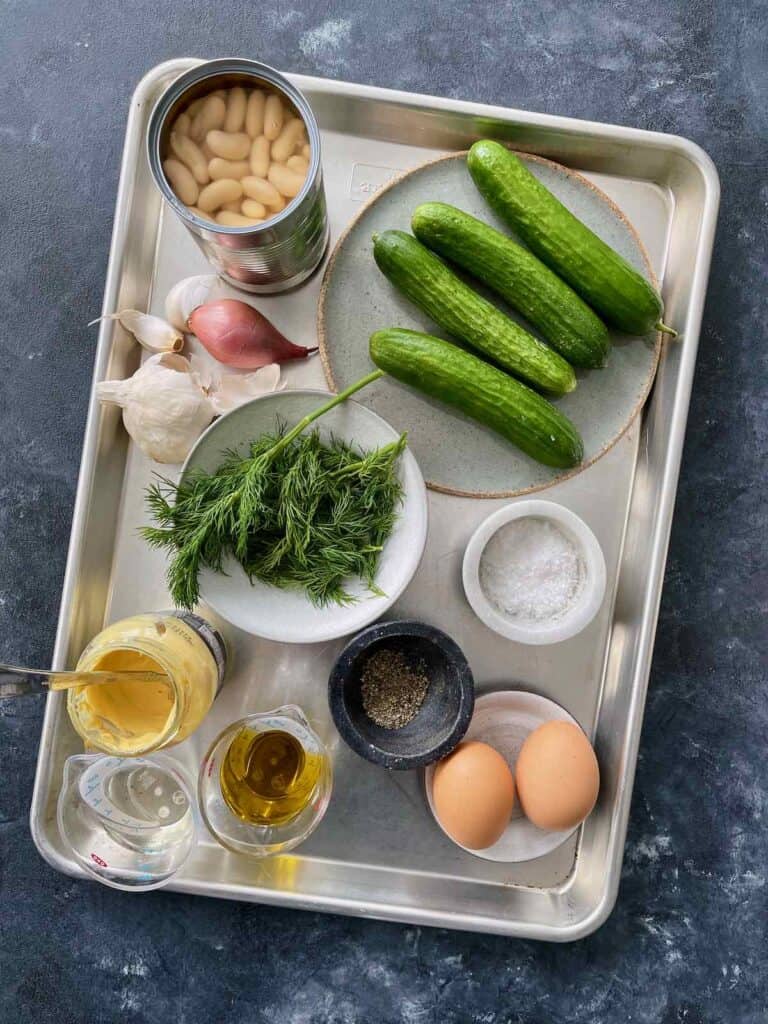 The best way to smash is to use a solid cutting board that either has rubber feet or a damp towel underneath, that way it won't slide all over the place. Start by cutting your cucumbers crosswise into manageable pieces, then place the knife flat on top with the blade facing away from you, then just lightly smash with your other hand. Voila! It's that easy. If you happen to make this—and I highly recommend that you do—don't forget to share it on Instagram! Also, don't forget to rate the recipe below!
If you love this recipe, you might also enjoy my Krab, Avocado & Grapefruit Salad!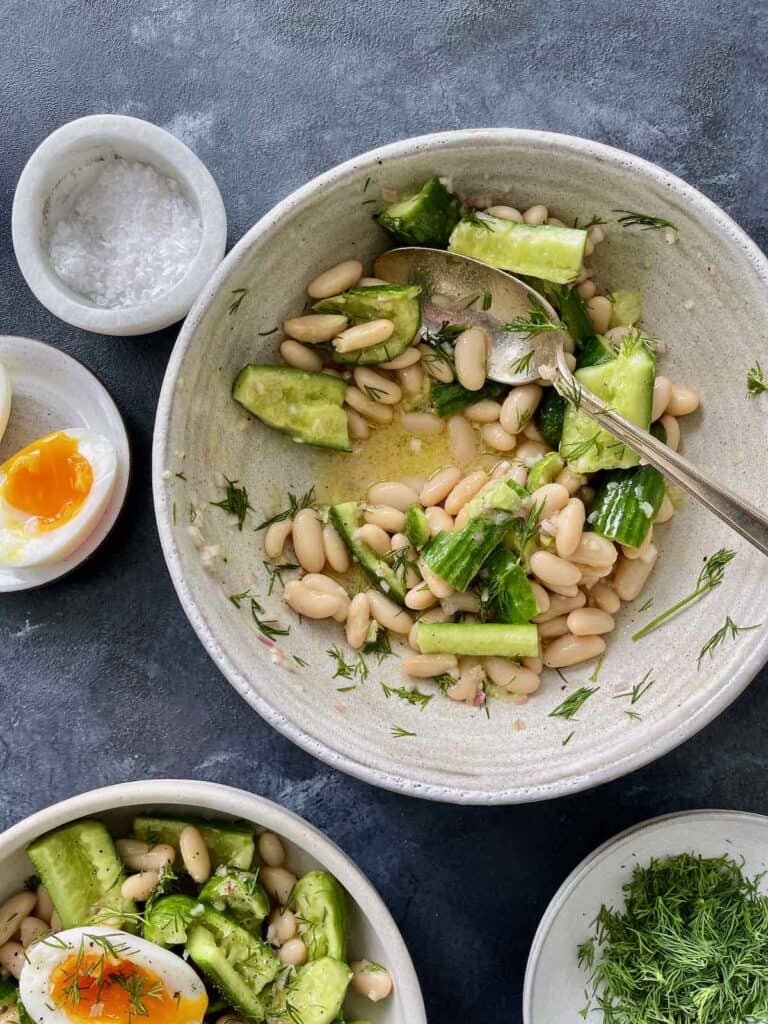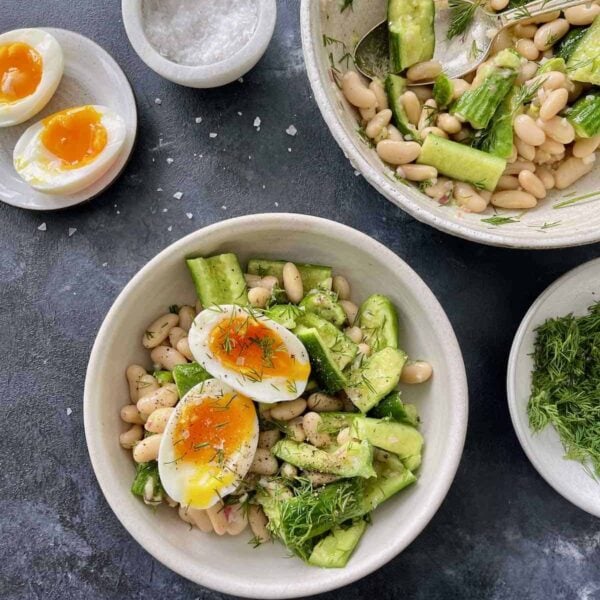 Smashed Cucumber and Bean Salad
These gently smashed cucumbers have nooks and crannies that soak up the tangy Dijon dressing. Creamy cannellini beans and soft-boiled eggs make this a dinner-worthy salad.
Ingredients
Ice
2 large eggs
1 small shallot, minced
1 small garlic clove, finely grated
1 teaspoon Dijon mustard
3 tablespoons white wine vinegar
3 tablespoons extra-virgin olive oil
Kosher salt and freshly ground black pepper
4 Persian cucumbers
1 (15-ounce) can cannellini beans, rinsed and drained
¼ cup finely chopped dill, plus more for garnish
Instructions
Bring a medium saucepan of water to a boil. Fill a medium bowl with ice and water to form an ice bath. Using a slotted spoon, carefully lower the eggs into the boiling water and cook for exactly 7 minutes. Using a slotted spoon, immediately transfer the eggs to the ice bath to cool completely. Carefully peel the eggs and cut them in half, being sure not to lose too much of the runny yolk.

In a serving bowl, combine the shallot, garlic and Dijon; whisk to combine. Gradually whisk in the vinegar and olive oil, then season the dressing with salt and pepper.

On a cutting board, cut the cucumbers into thirds crosswise. Work with one cucumber at a time: Place a large knife flat on top of a piece of cucumber with the blade facing away from you and then lightly smash it with your other hand. Repeat with the remaining cucumbers pieces, then tear them into chunks and transfer to the serving bowl.

Add the beans and dill to the serving bowl with the cucumbers and mix well. Season the salad with salt and pepper. Transfer to bowls and top with the soft-boiled eggs. Garnish with finely chopped dill, salt and pepper. Serve.