Krab, Avocado & Grapefruit Salad
Super-tasty krab is the star of this fresh-tasting salad. It is mouned with juicy grapefruit, fruity olive oil, and creamy avocado. Krab (aka imitation crabmeat) is known best as the star of the California roll, but shines bright in this easy recipe.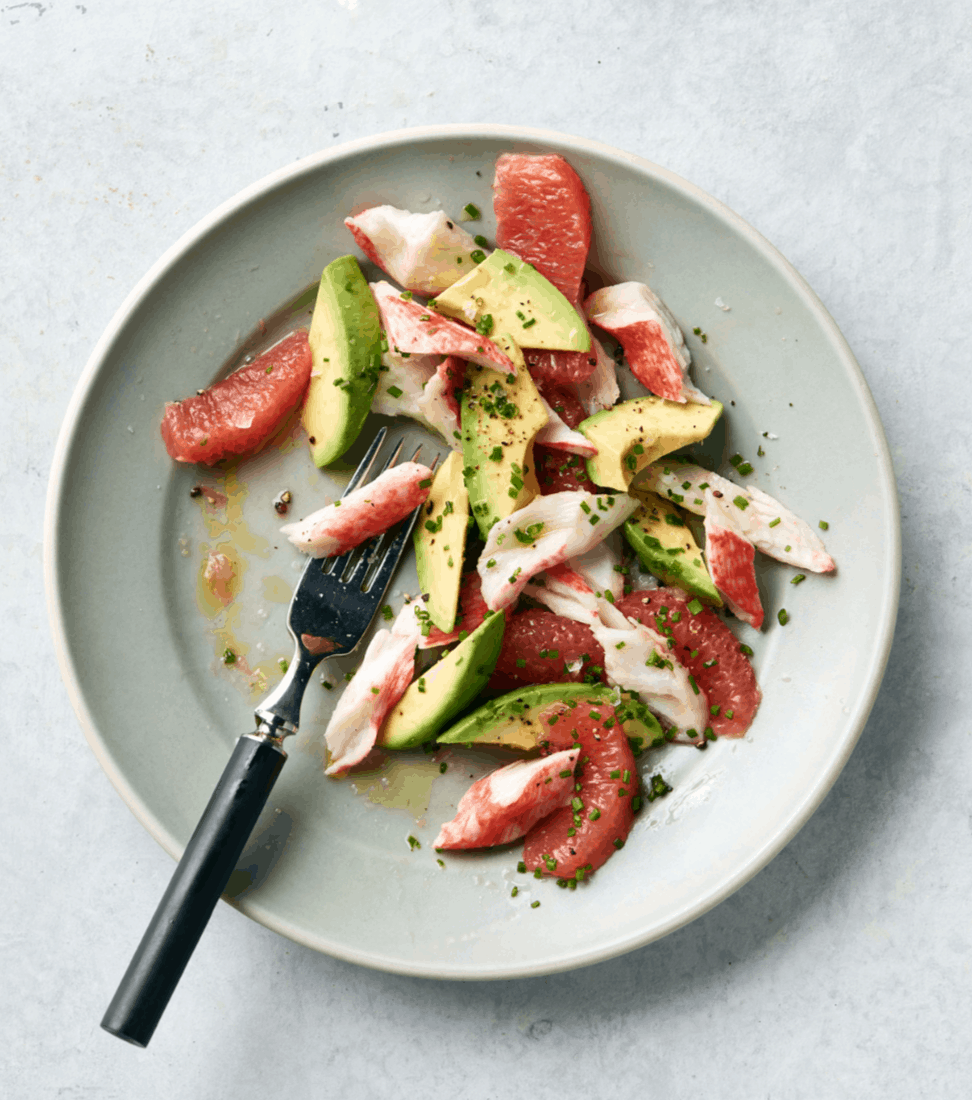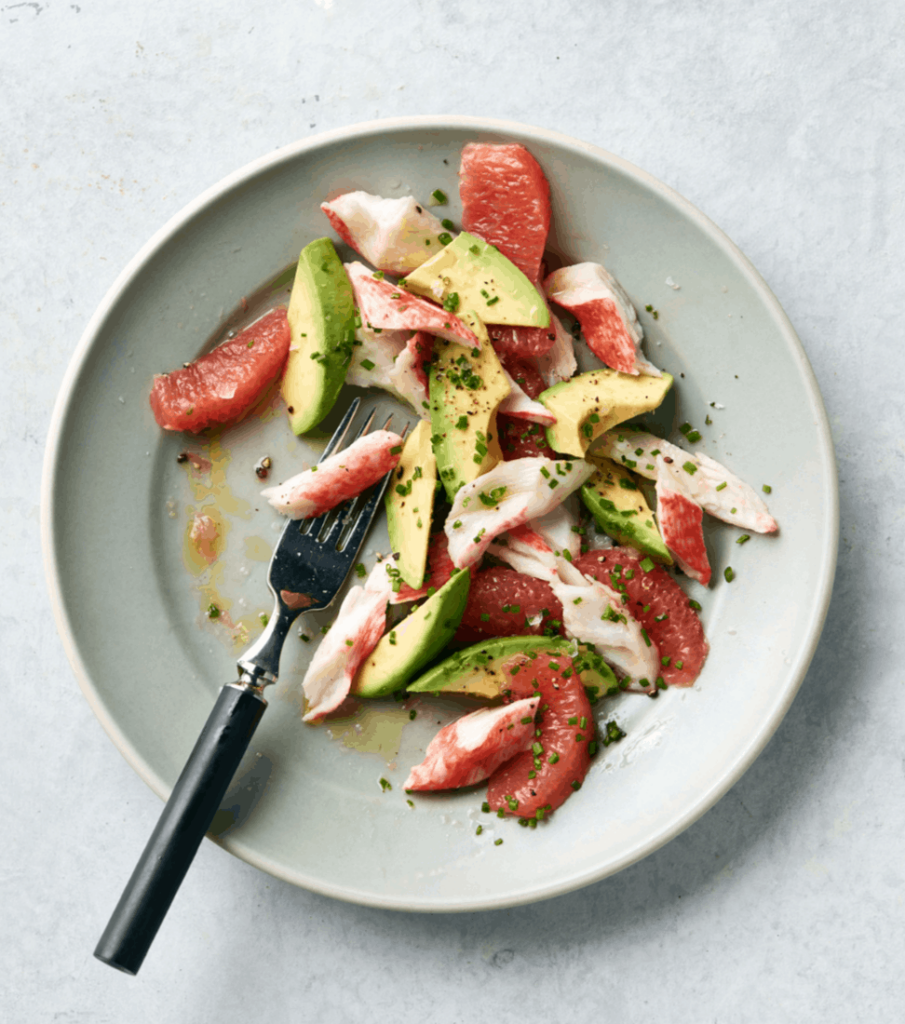 Okay, I know what you're thinking: How did he misspell crab? I didn't! I really mean krab, the tasty imitation crabmeat (aka crab sticks) you know best as the star of the California roll. Fun fact: Imitation crabmeat is made from pollack, which happens to be one of the most abundant fish in the world! Believe it or not, most pollack served in America is fished from the wild waters of Alaska. It has a cod-like flavor and a flaky, delicate texture that makes it super versatile. For instance, it's ideal for things like fish sticks and imitation crabmeat.
Krab isn't just sustainable. It's also inexpensive and easy to use (no picking through crabshells to extract the meat). In addition, you can easily find it in the deli or fish section of most supermarkets. I buy two or three packages at a time, that way I always have some on hand for snacking. As a kid, I thought of it as special treat. Nowadays, it's an everyday ingredient I use in recipes. For a light meal, I pack it in summer rolls with lettuce, cucumbers, carrots, and hot chiles. I also mix it with mayonnaise, lemon juice, scallions, and minced chipotle peppers to form a spicy dip for crackers or pita chips. All of this said, I say give it a whirl in recipes (like this one!) and you might find yourself loving it just as much as me.
Juicy and refreshing, this salad is lovely in the summer. However, with grapefruit as one of the stars, it's also great during winter months. After all, that's when grapefruits are at their best.
If you've never cut citrus into segments, trust me, it's easier than you think. Those segments are called supremes (pronounced su-prems) and they're ideal for a recipe like this. The process essentially cuts away all of the bitter pith as well as the membranes between the segments. If you aren't comfortable following the instructions in the recipe, simply peel the fruit and cut it into slices or bite-size pieces.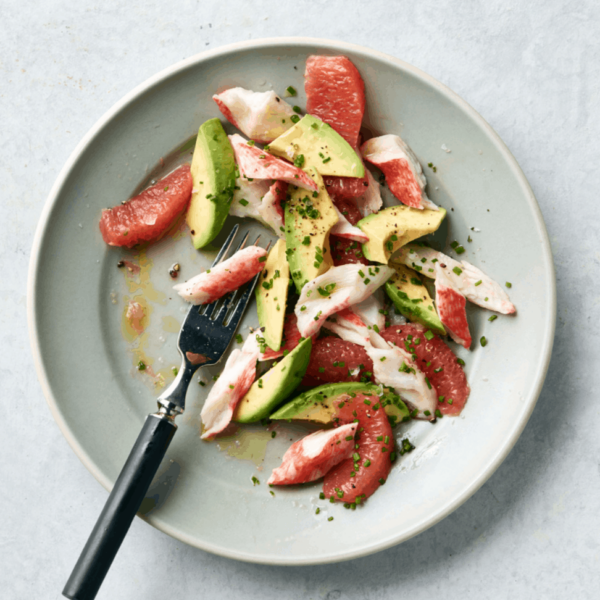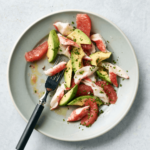 Krab, Avocado & Grapefruit Salad
Krab, which is the super-tasty imitation crabmeat known best as the star of the California roll, shines in this delicious, fresh-tasting salad. The combination of juicy grapefruit, fruity olive oil, and creamy avocado will make you a krab konvert.
Ingredients
3 ruby red grapefruits
8 ounces krab (aka imitation crabmeat chunks)
2 Hass avocados, pitted, peeled, and cut into bite- size pieces
1/4 cup extra-virgin olive oil
1/4 cup minced fresh chives
Kosher salt and freshly ground black pepper
Instructions
Using a knife, cut off the top and bottom ends of one grapefruit. Set the grapefruit on one of the cut sides to balance it and, working from the top to the bottom, cut off the peel and all of the bitter white pith. Working over a bowl, cut in between the membranes (the white lines that run vertically through the fruit) to release the sections and let them fall into the bowl. Squeeze the pulp that's left after you've cut out all the sections into a small bowl to release the juice; you should get about 3 tablespoons from the pulp of 1 grapefruit. Repeat with the remaining grapefruit. Reserve 1/4 cup of the grapefruit juice and save the rest for another use (or drink it!).

On plates or a platter, layer the krab, grapefruit sections, and avocados. Drizzle with the grapefruit juice and olive oil. Sprinkle the chives on top, then season with salt and pepper and serve.
Notes
Do It Ahead: You can easily assemble this salad a few hours ahead. Add the juice, olive oil, chives, salt, and pepper just before serving to prevent the citrus from leaching its juices. KRAB, AVOCADO & GRAPEFRUIT SALAD is excerpted from JUST COOK IT! © 2018 by Justin Chapple. Photography © 2018 by David Malosh. Reproduced by permission of Houghton Mifflin Harcourt. All rights reserved.