Mashed Potato Dumplings in Brodo
Wonton wrappers easily transform leftover mashed potatoes into delicate but filling dumplings. These tender little mashed potato dumplings need just a simple parmesan-infused brodo to make them shine!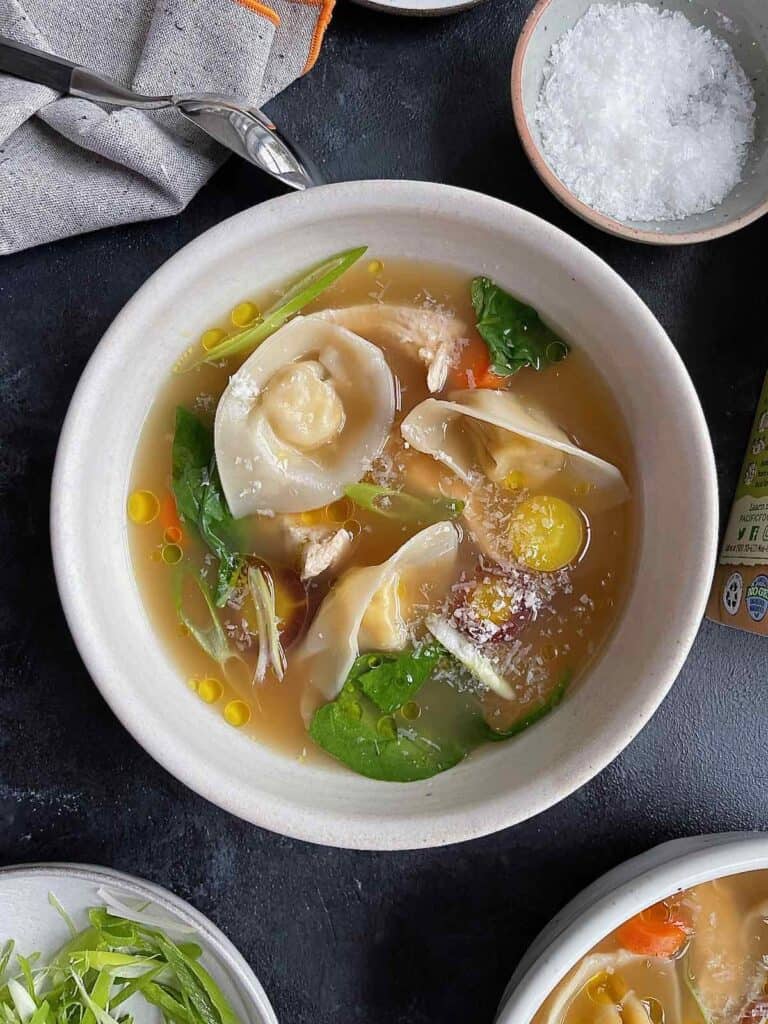 On holidays, whether it's Thanksgiving or Christmas, I always make mashed potatoes. They are, quite literally, one of my favorite things in the world. It's rare that I ever do have leftovers, but when I do, I like to transform them into entirely new meals. I sometimes make croquettes. I occasionally make mashed potato pancakes. I've even turned them into silky potato soup using a high-speed blender. But this recipe for mashed potato dumplings is way more inventive and healthy-ish, too!
LET'S MAKE DINNER!
When I first created the recipe, I really wanted to make a version of cappelletti or tortellini, which are two of my favorite stuffed pastas. However, I found it difficult to work with store-bought fresh pasta (lasagna) sheets and I wasn't in the mood to make my own. The trouble? Unless really thin, it's hard to prevent the pasta from cracking while forming the dumplings. Still, if you want to make these with fresh pasta, that's totally doable, but I'd recommend either making it yourself or buying it from a source that will ensure you get thin sheets. All that said, store-bought wonton wrappers are the perfect solution. They are thin, flexible, and cook in just minutes. Let's make dinner!
GATHER YOUR INGREDIENTS!
One of the great things about this dish is how adaptable it is. Besides the mashed potato filling that's used in the dumplings, everything else can be switched-up depending on what you have or what you like. For this version, I've added shredded cooked turkey but chicken works great! I've also included carrots and spinach, even though it's perfectly acceptable to simply serve the dumplings in the broth. Speaking of broth (aka brodo), you can use chicken broth as the base, as I do, but you can also use vegetable, turkey or even beef.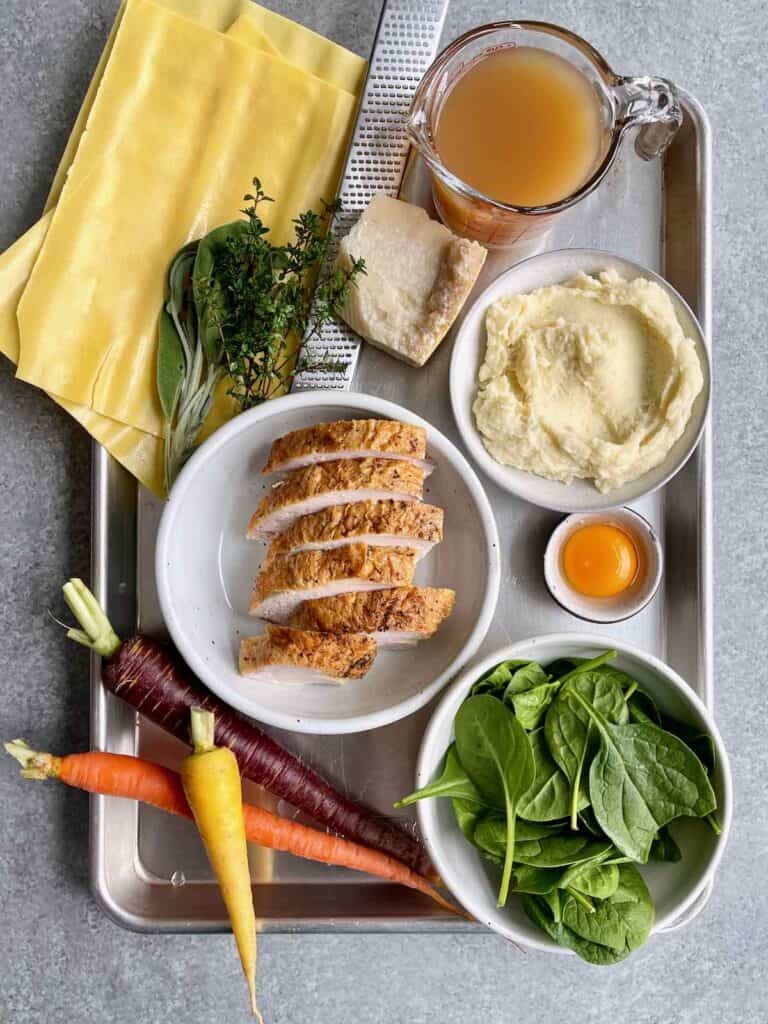 FIRST: INFUSE THE BRODO!
It all starts with a nourishing base of chicken broth, which can be homemade or store-bought. It's easily taken to the next level by steeping it with parmesan rind and herbs. This adds incredible flavorful to the broth but still allows the dumplings to shine. I prefer to buy parmesan in wedges and grate it myself in a food processor, that way I can keep the rinds in the freezer for recipes like this. For this version, I use sage and thyme, but rosemary works well too. Just combine everything in a big Dutch oven and bring it to a simmer, then cover and let it steep for 30 minutes. Bam! A big bold brodo is formed!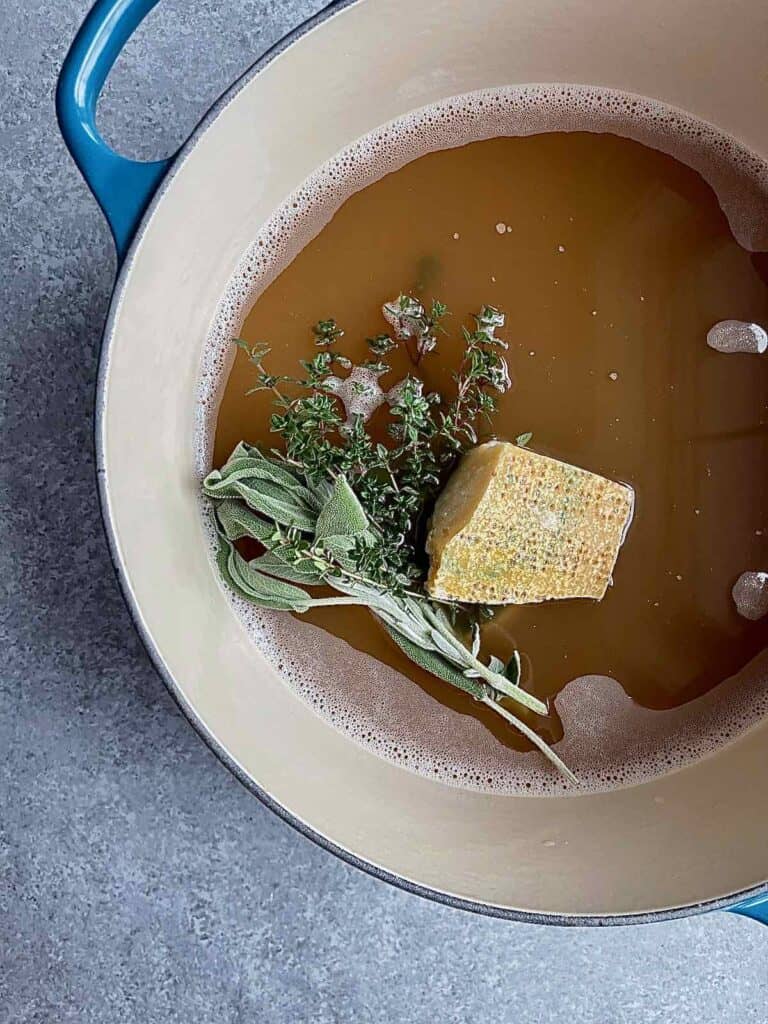 NEXT: MASHED POTATO FILLING TIME!
The filling is way easier than you think. It has just three ingredients (not including salt and pepper) and just gets stirred together. Plus, you only need 1/2 cup of mashed potatoes, so don't worry about having lots leftover. Heck, you can even scoop some out before serving, that way you know you'll be set to get this made.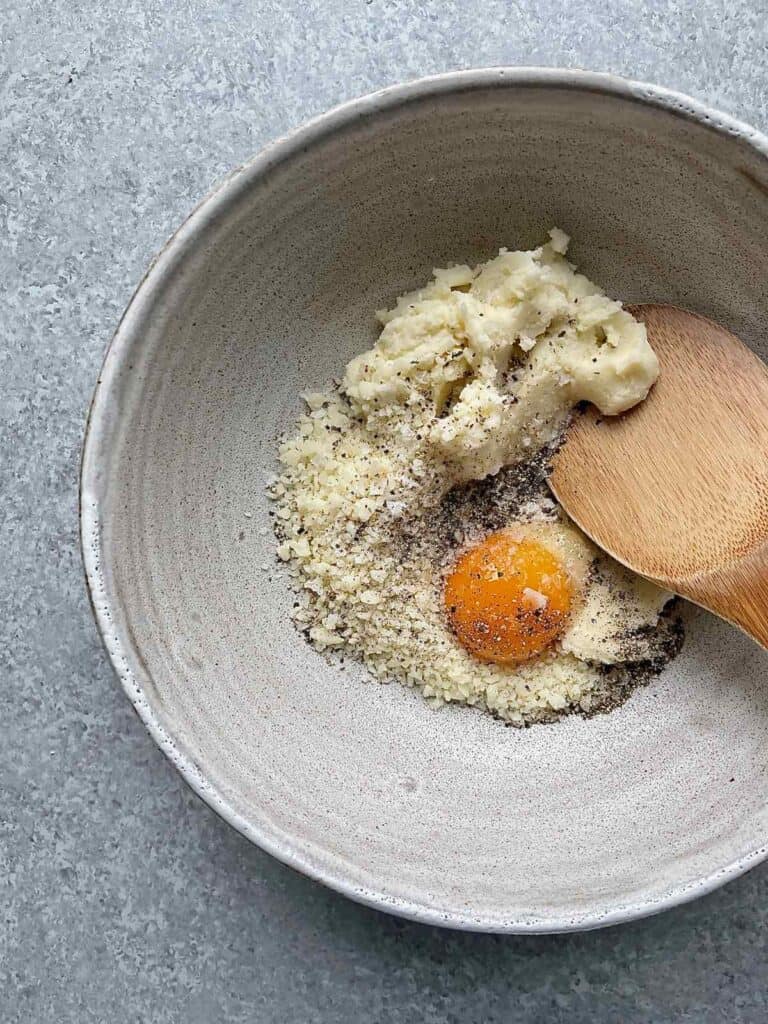 FINALLY: FORM YOUR DUMPLINGS!
Forming dumplings can be tedious, but it's not difficult. Take a peek at these images and steps. You can do it!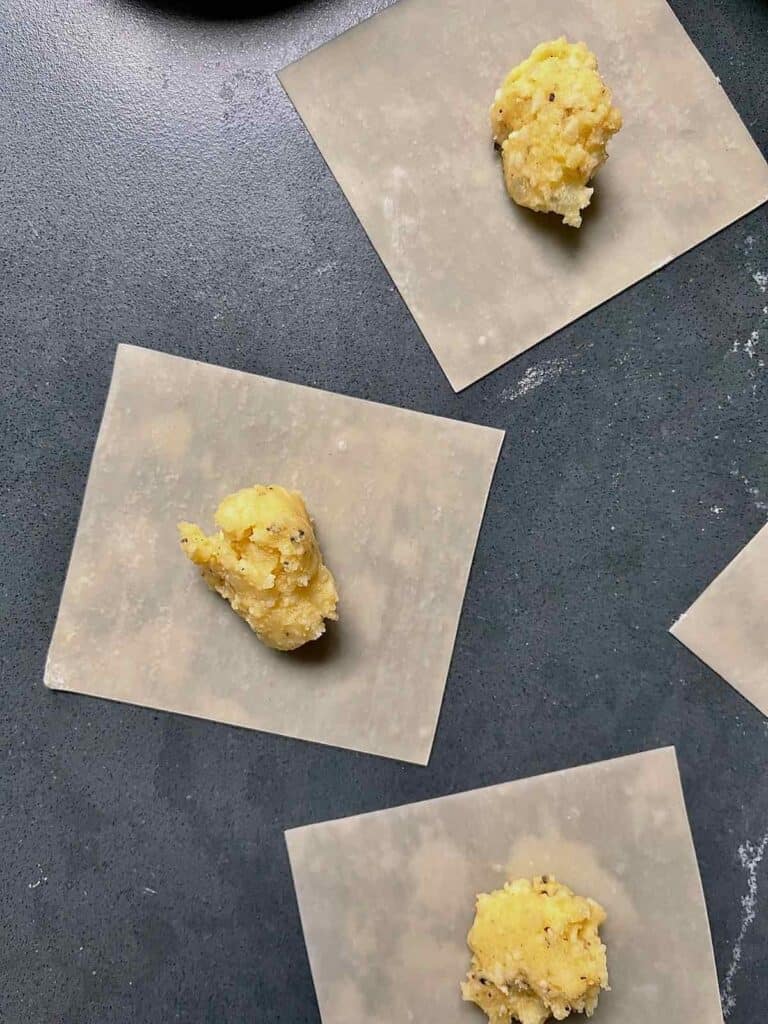 Once you've formed all of your dumplings, either cook them right away or transfer them to a baking sheet. Cover uncooked dumplings loosely with damp paper towels to prevent them from drying out and cracking. If you want to make these ahead and cook them later, freeze them on the baking sheet. Once they are firm, you can transfer them to a reasealable freezer bag. And there's no need to defrost them before cooking!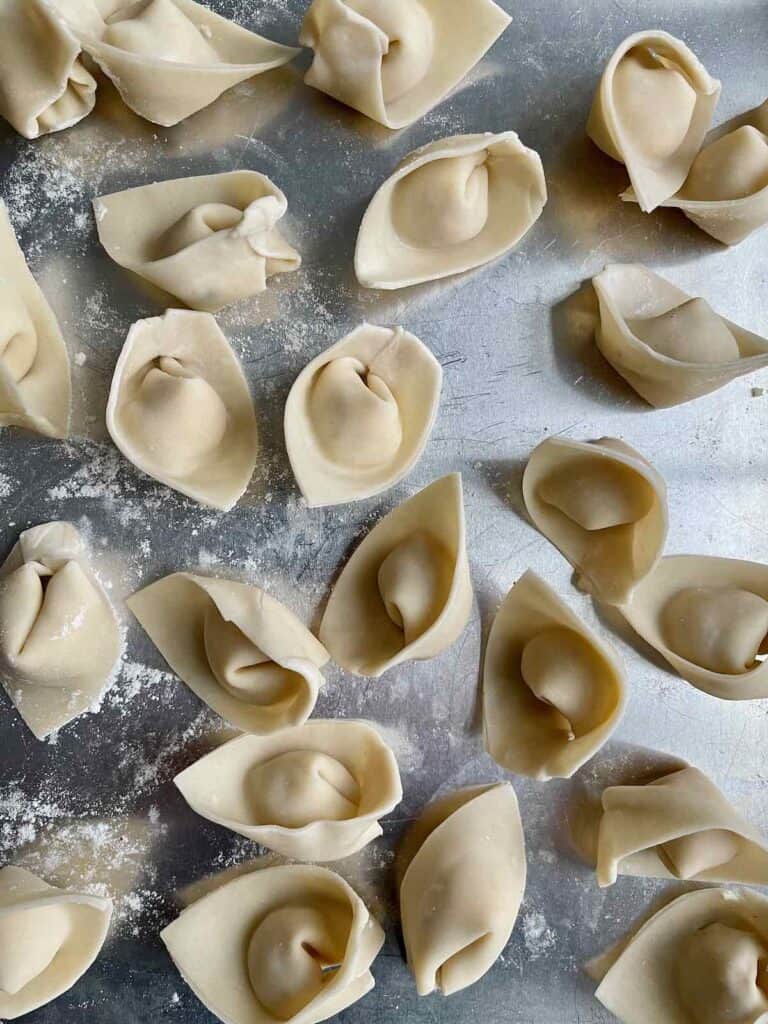 Everything else is super easy once you have your parmesan-infused brodo and formed dumplings. First, simmer the carrots, if using, until tender because the dumplings only cook for a few minutes. Add the dumplings and simmer until cooked through, then add your turkey and spinach. Dinner. Is. Done.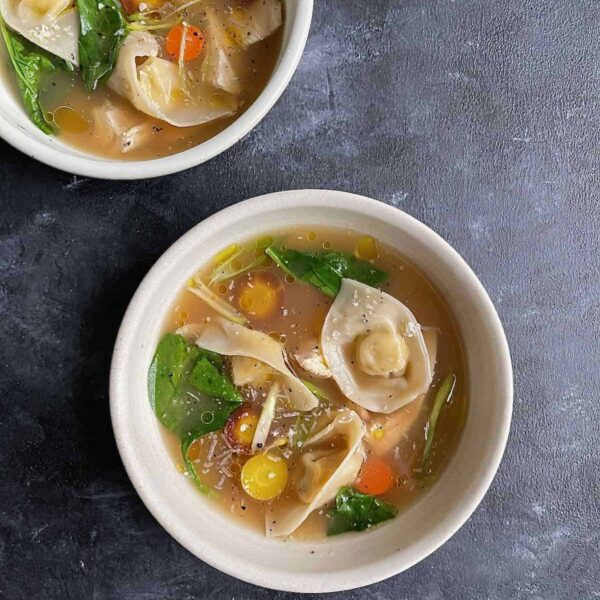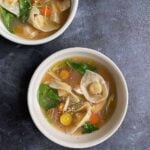 Mashed Potato Dumplings in Brodo
Wonton wrappers easily transform leftover mashed potatoes into delicate but filling dumplings. These tender little purses need just a simple parmesan-infused brodo to make them shine!
Ingredients
2 quarts chicken stock or low-sodium broth
1 (2-inch) parmesan rind
4 sage sprigs
4 thyme sprigs
Kosher salt & pepper
½ cup leftover mashed potatoes
¼ cup finely grated parmesan, plus more for serving
1 egg yolk
24 wonton wrappers, see Note
3 medium carrots, sliced
8 ounces shredded cooked turkey or chicken
3 cups spinach leaves
Sliced scallions and olive oil, for serving
Instructions
In a pot, combine bone broth, parmesan rind, sage and thyme. Bring just to a simmer. Cover and steep over very low heat for 30 minutes. Season with salt and pepper.

In a bowl, mix mashed potatoes with parmesan, egg yolk, 1 teaspoon salt and ½ teaspoon pepper.

Put 4 wonton wrappers on a work surface; keep remaining wrappers covered with damp paper towels. Spoon 1 teaspoon filling in the center of each; brush edges with water. Fold wrappers diagonally over filling to form triangles; seal. With your thumb in the center, bring the two opposite corners of the triangle together to form dumplings that look like cappelletti or tortellini; press to seal. Transfer to a lightly floured baking sheet; cover with damp paper towels. Repeat.

Add carrots to bone broth and simmer over medium heat until barely tender, about 7 minutes. Add dumplings and simmer until just cooked through, 3 to 5 minutes. Add turkey and cook until hot, about 3 minutes. Stir in spinach, then serve with scallions, olive oil and parmesan.
Notes
Note: You can also use sheets of fresh pasta, such as lasagna noodles. Just be sure they are thin and flexible to prevent them from breaking. Cut them into 3-inch squares before forming the dumplings.