Tortellini with Brown Butter, Almonds & Arugula
This super easy weeknight pasta comes together quickly with the help of fresh tortellini. The brown butter gives this comforting tortellini recipe lots of nutty flavor while lemon zest and fresh juice makes it vibrant. In addition, the toasty almonds give it wonderful texture. This is a winner!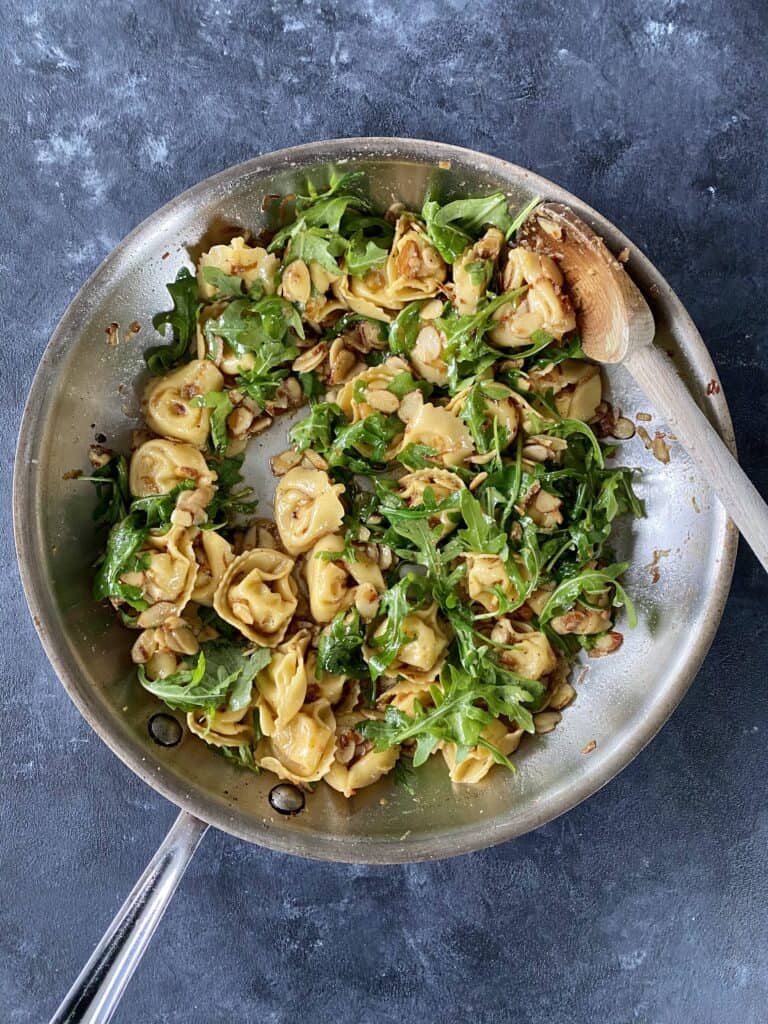 I've never frowned upon using prepared or store-bought ingredients in recipes. For instance, I keep multiple jars of marinara sauce on hand at all times. I use it as a base for many easy but elevated recipes, such as the cheater tomato soup (aka Marinara Soup) that's in my cook, Just Cook It! Store-bought ingredients, such as curry pastes or marinara and chile sauces, add long-cooked flavor to recipes. Similarly, you can use fresh pastas, like ravioli or tortellini, to save you lots of time. My advice? Buy the best quality you can find and afford. Just tell the family you made them yourself. It'll be our little secret!
Let's Make Dinner!
This recipe is seriously easy. In just three steps, dinner (or lunch or brunch) can be on the table.
First: gather your ingredients.
This recipe calls for prepared tortellini. I prefer ones filled with cheese because they pair nicely with the almonds and arugula. However, you can really use any type of tortellini you wish. Heck, you can even substitute ravioli or gnocchi! Per the recipe, you'll just cook them 2 minutes less than the suggested cooking time on the package.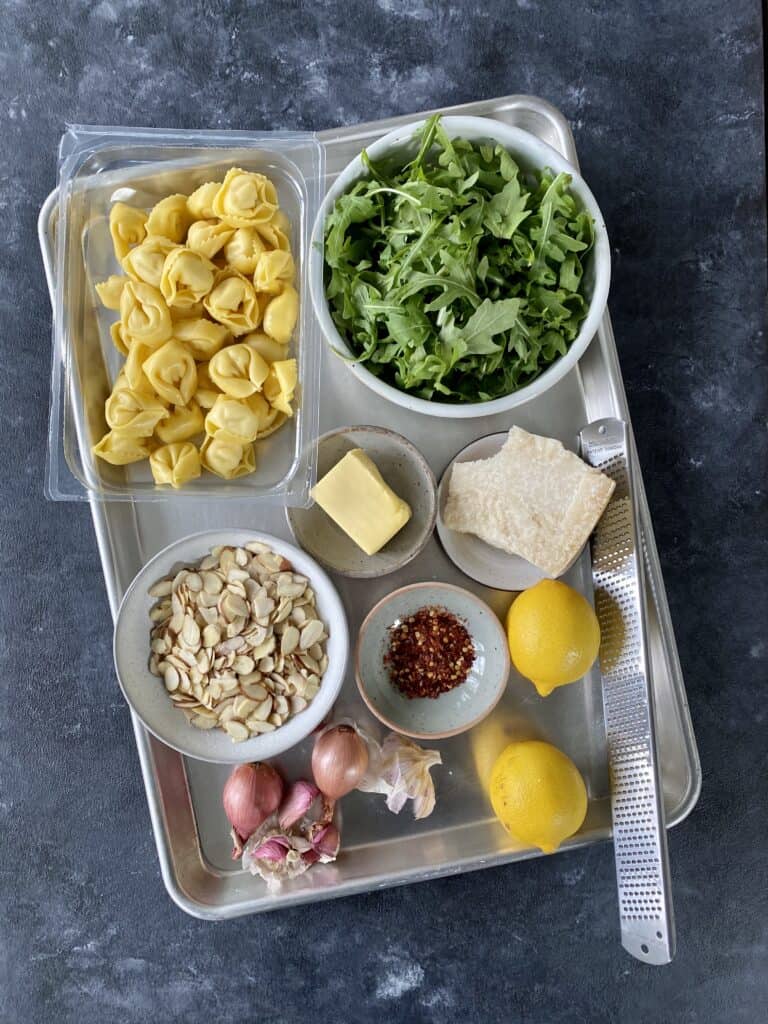 Second: boil the tortellini.
The trick to ensuring perfectly cooked tortellini in this recipe is to cook it 2 minutes less than suggested on the package. The pasta will finish cooking in the skillet. Don't forget to save 1/2 cup of the pasta cooking water. That starchy liquid is crucial to finishing the dish. Lastly, I recommend using a slotted spoon to transfer the pasta to an oiled plate or baking sheet, that way it doesn't stick together.
Next up: make the sauce and finish the dish.
Use a skillet big enough to hold all of the pasta. If you worry your skillet isn't big enough, you can use a Dutch oven instead. Cook the shallots and garlic in the butter and olive oil until softened. At this point, the butter shouldn't be browning. If it is, reduce the heat slightly. Once you add the almonds, then it's okay for the browning to begin. After you get the tortellini, pasta water, crushed red pepper, and lemon zest and juice into the skillet, be sure to toss while you're cooking. If you're uncomfortable doing this, use a large spoon to gently scoop up and fold the ingredients together, that way you don't puncture any of the tortellini. Remove from the heat and fold in the arugula and cheese. Voila! Dinner is served.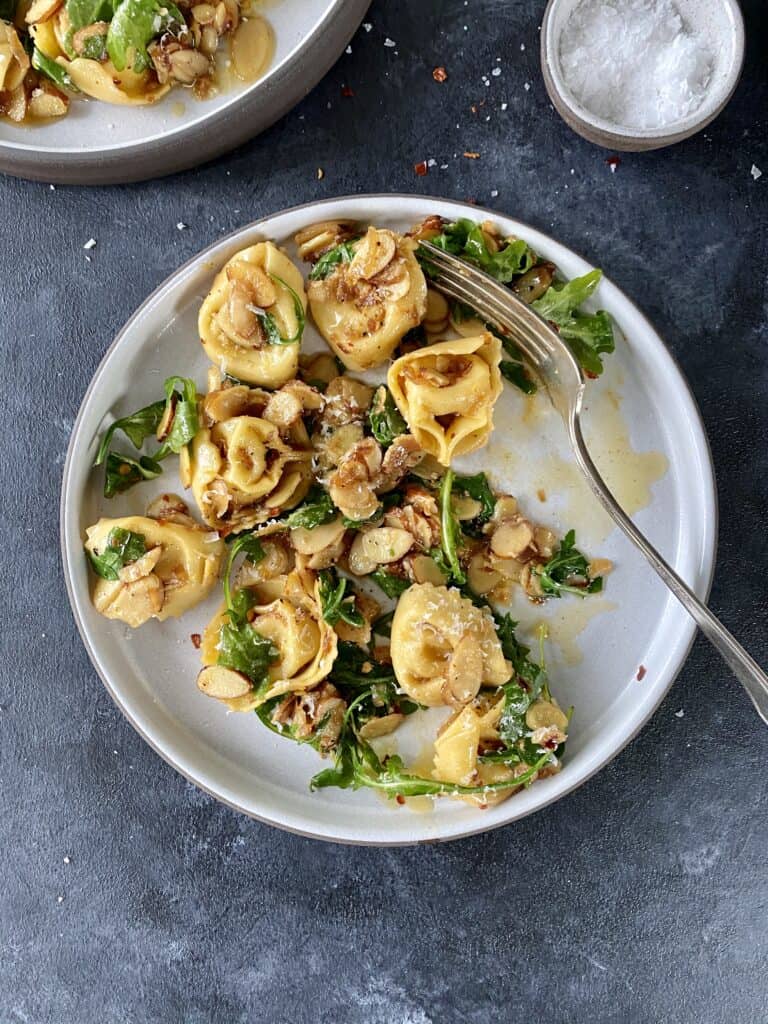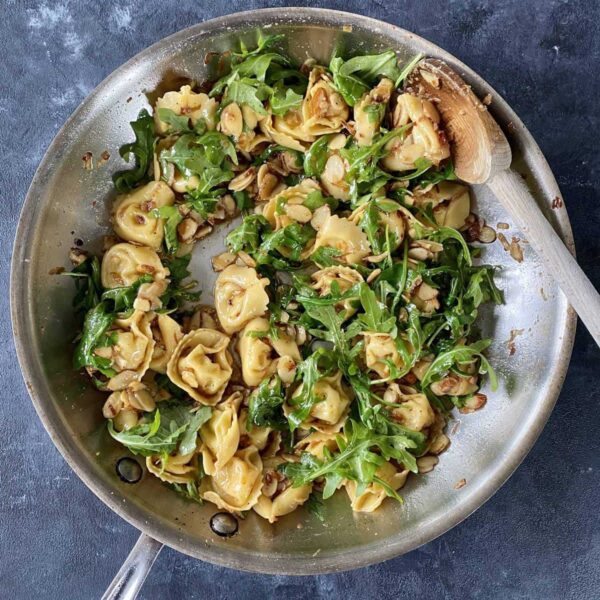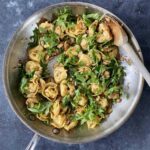 Tortellini with Brown Butter, Almonds & Arugula
This easy weeknight pasta recipe comes together quickly with the help of store-bought tortellini. Brown butter and lemon zest and juice gives this comforting dish lots of flavor while toasty almonds give it wonderful texture.
Ingredients
8 to 10 ounces fresh cheese tortellini, (see Note)
1 tablespoon extra-virgin olive oil, plus more for oiling
6 tablespoons unsalted butter
2 medium shallots, finely chopped
2 large garlic cloves, minced
Kosher salt and freshly ground pepper
3/4 cup sliced almonds
1/2 teaspoon crushed red pepper, plus more for serving
1 lemon, zested and juiced
2 cups baby arugula
1/4 cup finely grated parmesan, plus more for serving
Instructions
Bring a large saucepan of water to a boil, then add a tiny handful of salt. Add the tortellini and cook 2 minutes less than the package instructions suggest. Using a slotted spoon, transfer the tortellini to a lightly oiled plate or baking sheet. Reserve 1/2 cup of the cooking water.

In a large skillet, melt the butter in the 1 tablespoon of olive oil. When the butter is almost entirely melted, add the shallots, garlic and a generous pinch of salt. Cook over medium-high heat, stirring occasionally, until softened and fragrant, 2 to 3 minutes. Add the almonds and cook, stirring frequently, until the almonds are golden and the butter is browned, about 5 minutes.

Add the drained tortellini to the skillet along with the reserved cooking water, the crushed red pepper, and the lemon zest and juice. Cook, tossing, until the tortellini are cooked through and coated in the brown butter, about 3 minutes. Remove from the heat and fold in the arugula and parmesan. Season with salt and pepper. Serve, passing more parmesan at the table.
Notes
Note: Fresh tortellini can be found in the refrigerated section of the grocery store. You can often find it in the freezer, too, and that will work just fine for this recipe. Most packages are 8 to 10 ounces, which serves 2 people for dinner. That said, if you add a salad and some garlic bread, this recipe could serve 4.