Slow Cooker Lamb & Sweet Potato Curry
If you are looking for a reason to bring out your slow-cooker today, then look no further than this winter slow cooker curry to warm your bones. This hearty and savory slow-cooker stew, with chunks of tender lamb and sweet potatoes, will make you happy you ever bought the machine in the first place.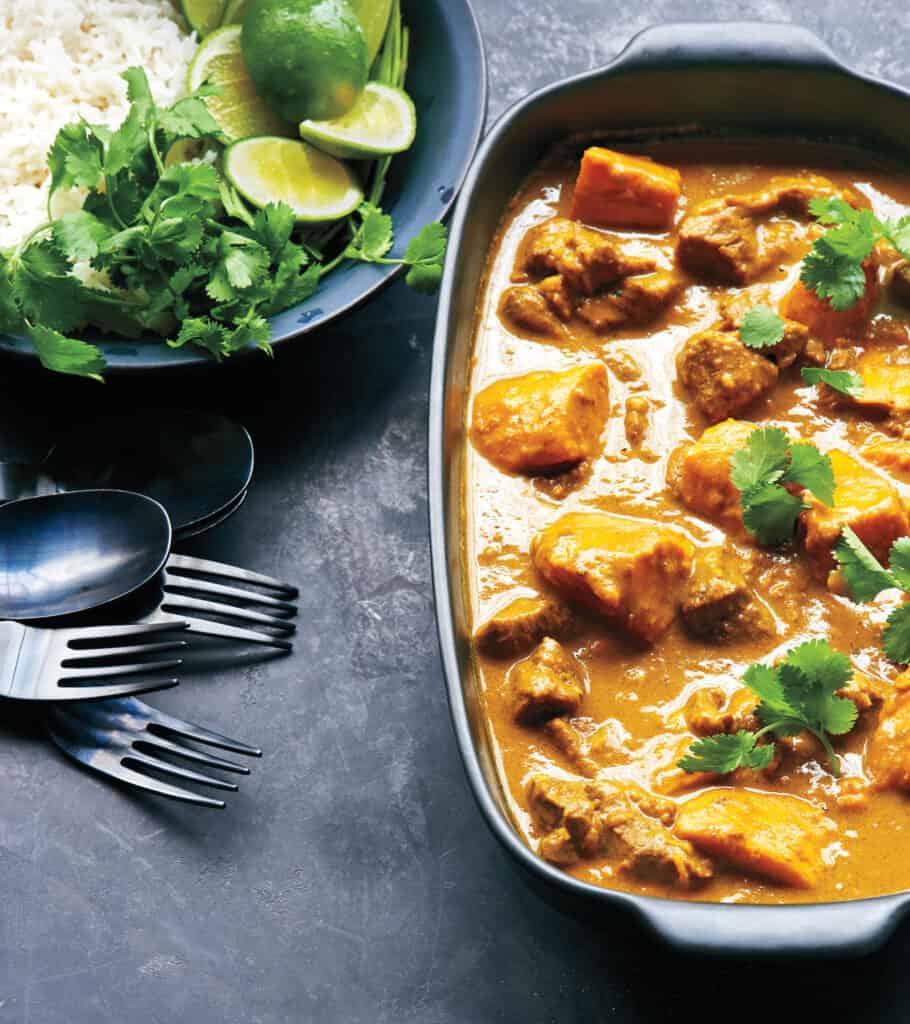 I developed this recipe for my second cookbook, Just Cook It!: 145-Built-To-Be-Easy Recipes That Are Totally Delicious, and it has become a cold-weather dinner staple at home. I just love how little time it takes to prepare! All you do is soften the ginger and garlic in a little butter, then combine that with the lamb (no need to even brown it first!), sweet potatoes, curry powder, turmeric, salt and pepper. Add some coconut milk and chicken broth and that's it!
I am a HUGE fan of my slow-cooker. It is such a simple way to get a meal to the table, and who doesn't love getting the prep out of the way early in the day (or even the night before)? I find there is nothing more satisfying than having a delicious home-cooked meal ready to go at dinner time. In addition to the simplicity factor, the slow cooker's long, low heat cooking method brings out the best flavor in so many foods. It also works to tenderize cheap cuts of meat, making the slow-cooker a very economical kitchen gadget to own! For this curry, all you need to do is steam some rice—or even buy it ready-made from your local Chinese restaurant—and you're ready to dig in!
Speaking of Cheap Cuts
You know when you go to the supermarket and there are those big inexpensive pieces of beef, lamb and pork? Well, you wouldn't want to saute or roast that meat (unless you like very chewy meat), but it is time to treat yo'self to a hunk and get it in the pot. The cheap pieces are butchered from well-used muscles in the shoulder or legs, which have a lot of collagen. Low, slow cooking breaks down the collagen, transforming the meat into a beautiful mess of juicy, tender, succulent divinity.
A Quick Shopping Guide
Here is a little list of optimal slow-cooker cuts I recommend.
Pork: shoulder/butt, rib roast, shanks
Beef: chuck, brisket, rump, shanks, short ribs, oxtail
Lamb: shanks, leg, shoulder
Chicken: legs, thighs
This savory curry uses lamb shoulder, which is a little fatty but loaded with flavor. Trim the fat a bit, and then watch those pieces of lamb turn into succulent, tender bites that melt in your mouth.
Curry Powder Pow-Wow
There are so many brands of curry powders on the market, and each one varies from the next. Curry powder is a vibrant blend of herbs and spices, often including turmeric, chiles, coriander, ginger, cumin, cardamom, curry leaf and more. You should experiment to find what blend you like, but I'm partial to Madras curry powder. It's a bit spicier than standard blends, and I feel like it adds a pleasant toasty note to dishes. If you can't get Madras curry powder, opt for a medium-strength blend. Or if you don't like heat, feel free to use a mild blend too!
Slow Cooker – It's not just for Stews!
I like to think beyond this slow cooker curry or just soups and stews when using the slow-cooker. I even use it to make very easy and completely addictive mashed potatoes.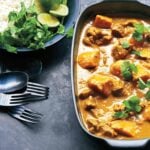 Slow Cooker Lamb & Sweet Potato Curry
This hearty and savory slow-cooker stew, with chunks of tender lamb and sweet potatoes, is the perfect winter dish to warm your bones. There isn't a single better reason to pull out the slow-cooker than this best-ever curry!
Ingredients
2 tablespoons unsalted butter
2 tablespoons minced peeled fresh ginger
4 garlic cloves, minced
2 pounds well-trimmed boneless lamb shoulder, cut into 1 1/2-inch pieces
1 pound sweet potatoes (2 medium), peeled and cut into 2-inch pieces
1 1/2 tablespoons Madras curry powder
1 teaspoon turmeric powder
Kosher salt and freshly ground black pepper
1 15-ounce can unsweetened coconut milk
1 cup low-sodium chicken broth
Chopped fresh cilantro, for sprinkling
Steamed rice, for serving
Lime wedges, for serving
Instructions
In a small skillet, melt the butter over medium-high heat. Add the ginger and garlic and cook, stirring, until softened and lightly browned, about 3 minutes. Scrape into a large bowl. Add the lamb, sweet potatoes, curry powder, turmeric, 2 teaspoons salt, and 1 teaspoon pepper and toss well. Cover and refrigerate overnight (or, if you're doing this day-of, just mix it all in the insert of the slow cooker).

Transfer to a slow cooker and stir in the coconut milk and stock. Cover and cook on Low for 7 to 8 hours (alternately, cook on High for 4 to 5 hours), until the lamb and sweet potatoes are tender. Season the curry with salt and pepper.

Ladle into bowls and sprinkle with chopped cilantro. Serve with steamed rice and lime wedges.
Notes
Do It Ahead: The curry can be refrigerated in an airtight container for up to 3 days. Reheat in a saucepan over medium heat, stirring occasionally, until hot. SLOW-COOKED LAMB & SWEET POTATO CURRY is excerpted from JUST COOK IT! © 2018 by Justin Chapple. Photography © 2018 by David Malosh. Reproduced by permission of Houghton Mifflin Harcourt. All rights reserved.