French Toast Casserole with Caramelized Peaches
This is perhaps the easiest and very best French toast recipe you'll ever make. Instead of making one piece at a time, I soak thick slabs of sourdough in a rich egg custard and bake the French toast in a casserole until it's fluffy, soft and crazy delicious. The kicker? I top it with warm, drippy caramelized peaches and a drizzle of maple syrup.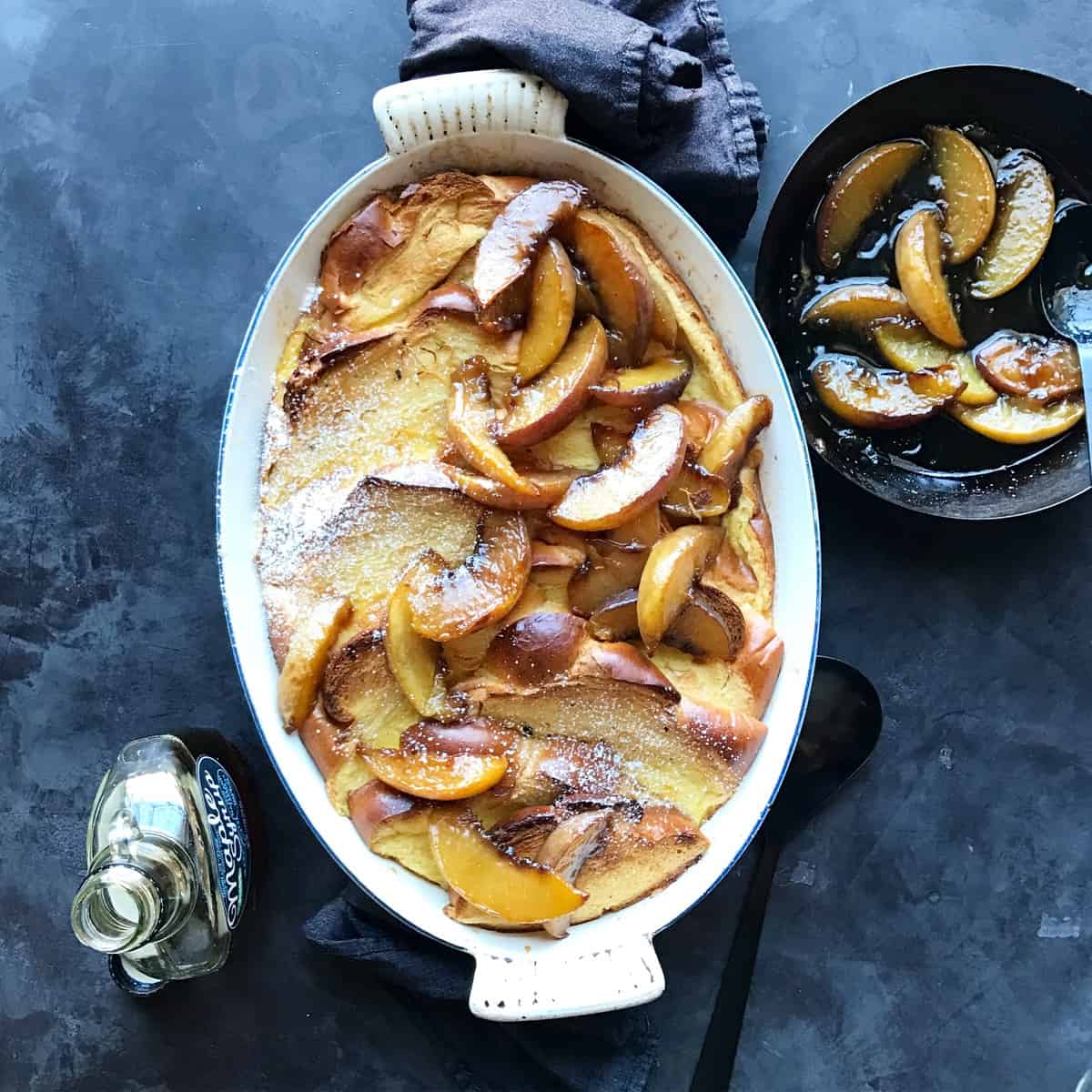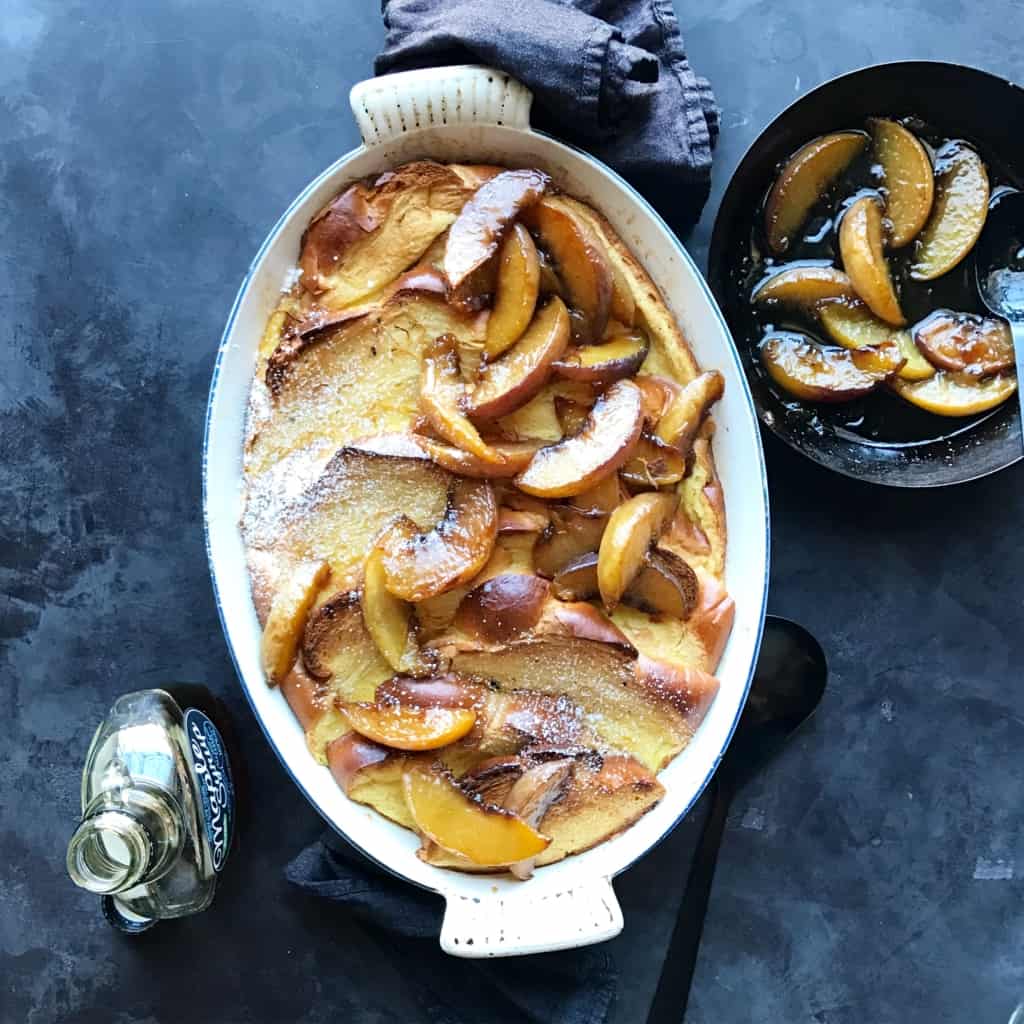 Making French toast can be tedious, let's admit it. Who wants to stand over the stove cooking one sopping wet piece at a time while everyone sits around waiting? Instead, I soak multiple slices of thick-cut sourdough or challah in a rich egg custard, then bake them in one big happy casserole dish! It's not only easy, it's a show-stopper at the table. I like topping it with warm caramelized peaches, but feel free to skip that and spread it with your favorite fruit jam instead.
The truth is that I don't even order French toast at restaurants cause it's not my thing, but breakfast casseroles are TOTALLY my thing. They're easy, they're make-ahead, and they bring a little family-style love and togetherness to the table. That's how my French toast casserole was born. It involves combining all of the usual suspects (bread, milk, eggs, vanilla, sugar) and letting them soak overnight before baking. You can cut the soaking time back to one hour if you're just dying to get this into the oven, but letting it soak overnight creates that optimal silky, rich, eggy custard-like French toast that we all dream about!
Time for Brunch!
I originally created this French toast casserole when I was writing my second cookbook, Just Cook It!: 145 Built-to-Be-Easy Recipes That Are Totally Delicious, and I was thrilled with how it turned out. So much so that I think it's suitable for any meal, any time of day. This is especially true because it's prepped ahead and can hang in the fridge until you're ready to bake it. If I served it for dinner, though, I'd make a bunch of sweet and spicy sausages and a lightly dressed green salad to round out the meal.
First: Let's Talk Bread
If you know me, you know that I'm a big fan of sourdough bread. It's hearty, chewy and it has that little tang that adds something special to dishes. If you're skeptical what it might taste like in an application like French toast, trust me on this one. But if you're not convinced, that's okay! Thick slices of challah or brioche are great in this casserole as well. You could even use a hearty white sandwich bread, just aim for slices that are 1-inch-thick and no less. Once you've sliced your bread, arrange it in a nicely buttered baking dish to eliminate any chance of sticking.
Second: Prep Your Casserole
I'm not gonna lie: I love a one-bowl prep like this one. Who doesn't? Fewer dishes means better tasting food! Grab your mixing bowl and whisk together the eggs, milk, cream, sugar, vanilla, lemon zest and salt. Pour the custard over the bread and voila! Just make sure to submerge the bread in the custard so it gets all soaked up. If you don't have lemon zest, which I add to brighten up the richness, you can use orange zest too. You could also swap out the vanilla extract for another extract like almond, hazelnut or coconut, if you're looking for a whisper of another flavor. All you have to do is cover the casserole and pop it in the fridge. At this point, you've done almost all of the prep for your French toast! When it's time to bake, simply uncover the dish and pop it in the oven.
Third: Caramelize the Peaches
This is the final flourish on an already amazing dish. I love quickly caramelizing peaches with butter and brown sugar for a fruity finish, but you could also use nectarines, plums or apricots. Sometimes, if a peach is still a bit firm, it can feel hard to cut properly. If so, do what I do: Cut the peaches into wedges while it's still on the pit! Using a paring knife, cut one 1/2-inch wedge lengthwise into a peach, then wiggle the knife while twisting the knife up to release the wedge. Continue the process all the way around until you cut off your last wedge. You don't need to peel the peaches—just let them cook in a skillet with the butter and brown sugar until they're tender and browned. Scatter them over the French toast, drizzle with warm maple syrup, dust with confectioners' sugar and dig right in!
Oh, and one last thought: if you're not feeling the peaches, you can also throw some fresh berries over the French toast and serve with freshly whipped cream!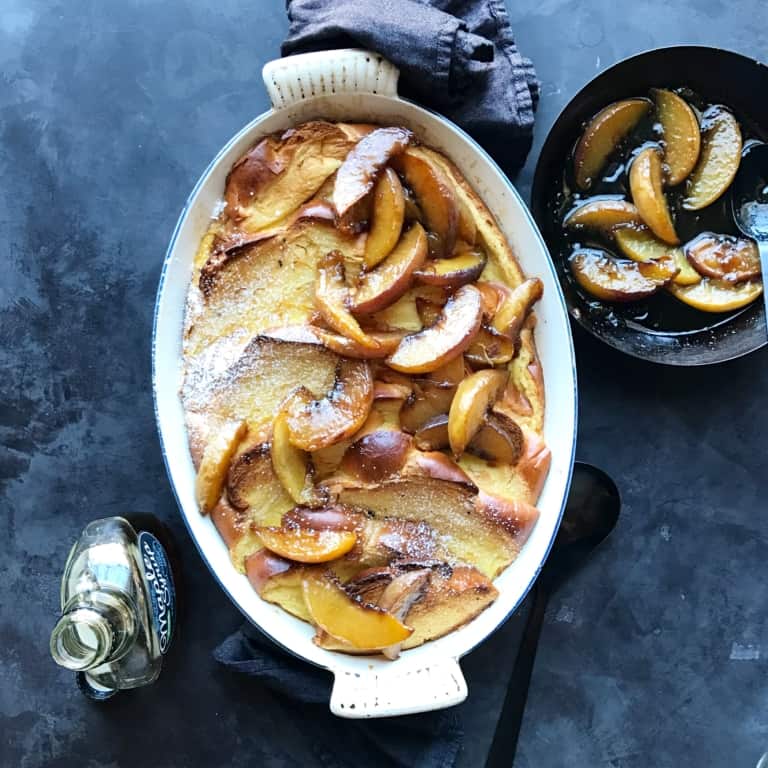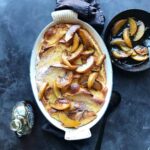 French Toast Casserole with Caramelized Peaches
This irresistible French Toast Casserole with Caramelized Peaches is easier than you think. The sweet, drippy peaches are a delight but can easily be replaced by any seasonal topping.
Ingredients
2 tablespoons unsalted butter, plus more for greasing
1 1/4 pound boule sourdough bread or challah, cut into 1-inch- thick slices
6 large eggs
2 cups whole milk
1/2 cup heavy cream
1/2 cup granulated sugar
1 vanilla bean, split and seeds scraped out, (or 1 teaspoon pure vanilla extract)
1 teaspoon finely grated lemon zest
Kosher salt
3 firm but ripe peaches, cut into 1/2-inch wedges , (see Tip)
1/4 cup packed light brown sugar
Warm maple syrup, for serving
Confectioners' sugar, for dusting
Instructions
Butter a 9 by 13-inch oval or rectangle baking dish and then arrange the bread in slightly overlapping layers in it.

In a large bowl, beat the eggs, milk, cream, granulated sugar, vanilla bean seeds or extract, lemon zest, and 1/2 teaspoon salt. Pour the egg mixture over the bread, gently pressing the bread to submerge it. Cover with plastic wrap and refrigerate until the egg mixture has been absorbed by the bread, at least 1 hour but preferably overnight.

Preheat the oven to 350°F. Uncover the baking dish and bake for 45 to 55 minutes, until the center is set but slightly jiggly. Let stand for 10 minutes.

Meanwhile, in a large skillet, melt the butter over medium-high heat. Add the peaches, brown sugar, and a pinch of salt. Cook, stirring occasionally, until the peaches are tender and browned in spots, 5 to 7 minutes.

Serve the French toast with the caramelized peaches and warm maple syrup, dusted with confectioners' sugar.
Notes
Tip: Cutting a peach into wedges—especially when the fruit is still a bit firm— can feel cumbersome. But it doesn't need to be. Do what I do Cut the peach into wedges while it's still on the pit! Using a paring knife, cut one 1/2-inch wedge lengthwise into a peach and then wiggle the knife while twisting the knife up to release the wedge. Continue the process all the way around the pit until you cut off your last wedge.