Salted Mocha Tart
If you're looking for an easy, show-stopping dessert to make for a party, or just want to indulge yourself with something special, you will love this no-bake, no-fuss chocolate tart that's silky, rich, and oh-so-good!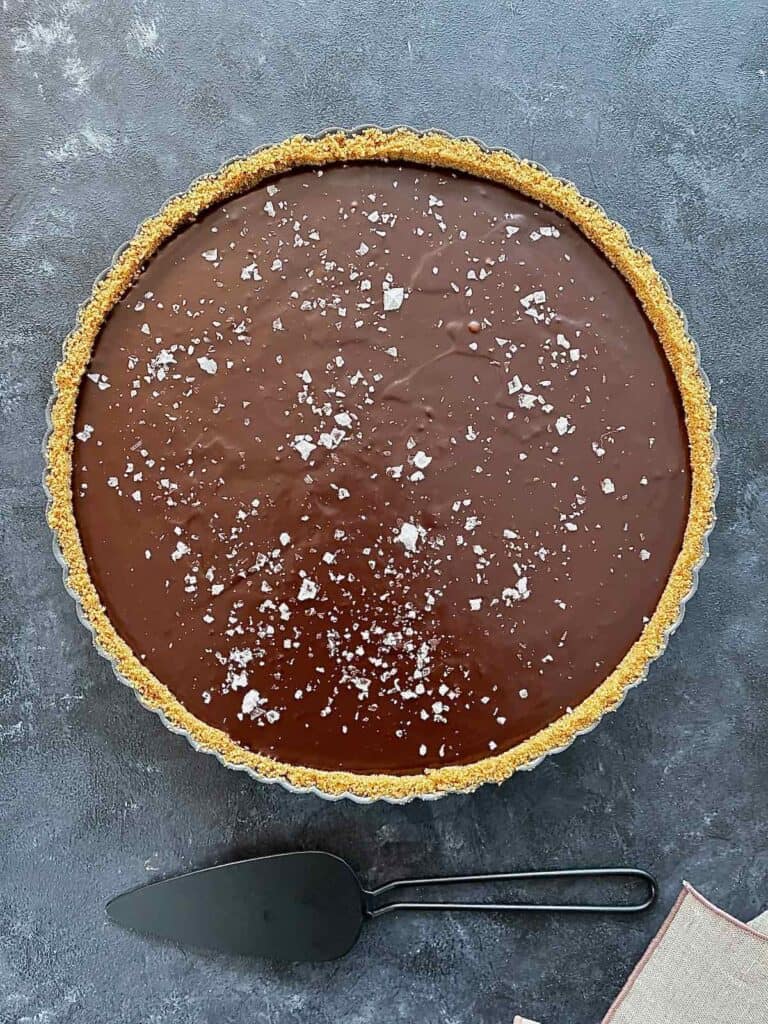 I don't know about you, but when I see a picture of a tart like this, I automatically assume it's going to be a lot of work. Well, I am here to tell you that this is not the case, my friends. Everything about this tart is brilliant because it's takes so little effort! Finely crushed graham crackers and melted butter come together to form a crust that hardens when chilled. The quick four-ingredient chocolate ganache gets poured right into the crust and the tart gets set in the fridge to chill. A little sprinkle of flaky sea salt and then voila! It's done.
FEW INGREDIENTS, BIG PAYOFF!
This tart is made up of so few ingredients (only 7!) that I bet to make it, you might only have to buy one or two things. But because this has so few ingredients, I recommend using your absolute most favorite bittersweet chocolate and delicious unsalted butter. Make sure your cream is fresh, too!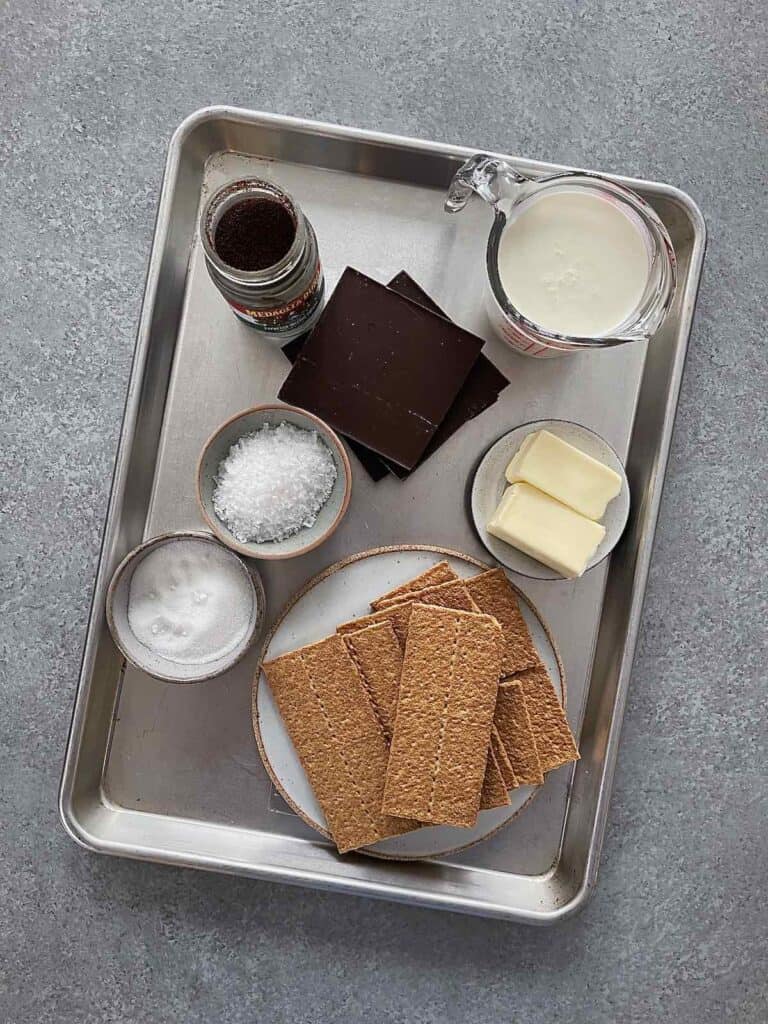 About the Tart Pan
This tart looks very pretty in a fluted tart pan (either round or rectangular) and since the pan has a removable bottom, it also makes for a clean presentation. Don't have a tart pan? Then just use a 9-inch square baking pan lined with non-stick foil. Make sure there is ample overhang on two sides so you can handily lift the finished tart out of the pan. Here's another tip: you can also use a pre-made graham cracker crust and make this easy recipe even easier!
First: Make the Graham Cracker Mixture
The buttery, crunchy graham cracker crust starts with making the crumbs. Making the crumbs yourself is quick work in a food processor or blender, but if you want to buy pre-crushed crumbs, that's an option. If you prefer, you can also crush the crackers in a plastic bag, using a rolling pin or wine bottle, but you want to be sure they get pretty finely crushed. Here's the process to make the crust:
Then, form that perfect shell!
Press the graham cracker crumbs over the bottom and up the side of the pan. Use the bottom of a glass or a ramekin to evenly press the crumbs on the bottom, then use a fork to press them along the side. Once you've done that, take a paring knife and shave off the top edge to create a uniform lip.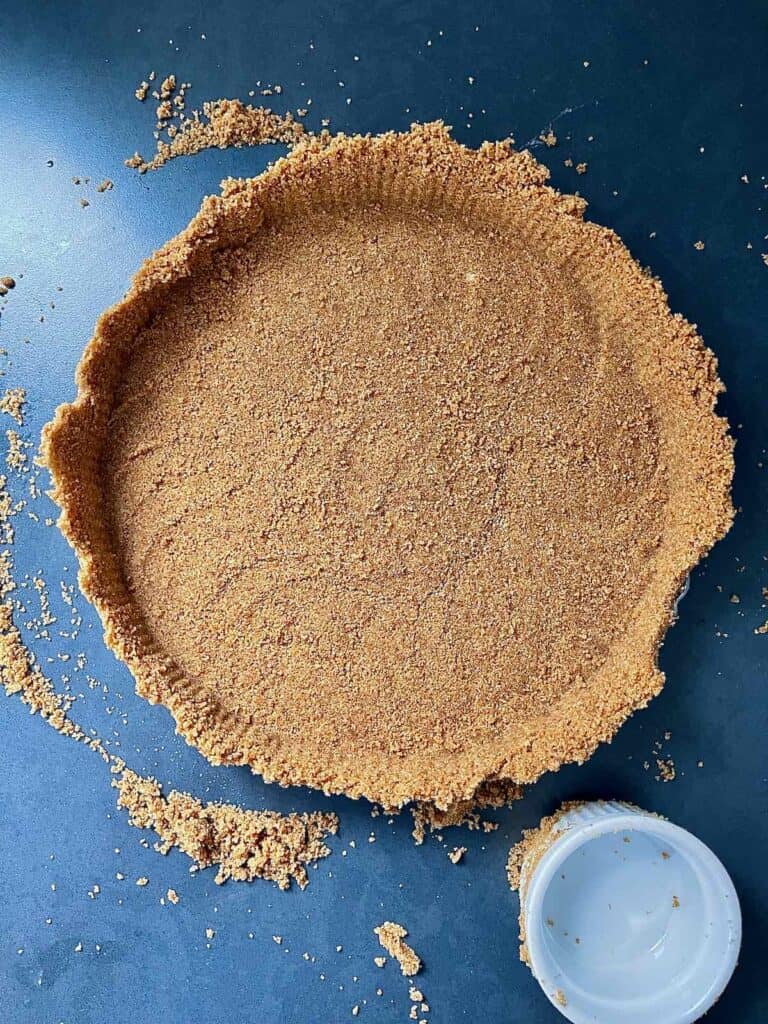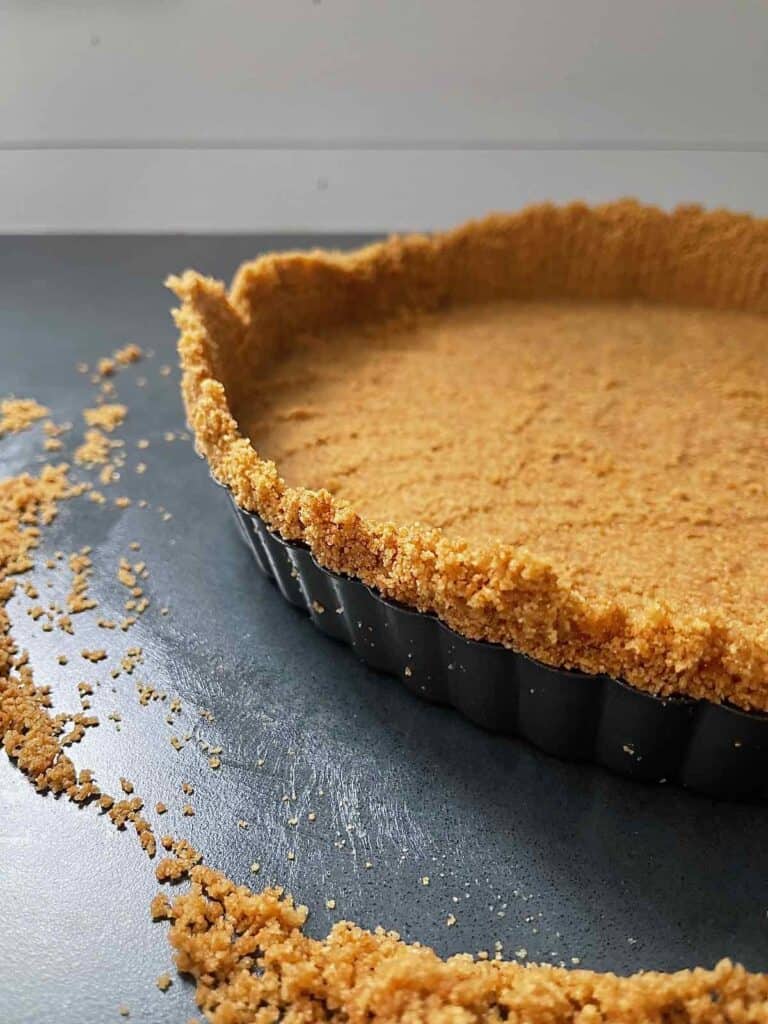 NEXT: MAKE THE GANACHE!
Ganache sounds all fancy, but it's one of the easiest things to make! You start by simmering cream with instant espresso powder, then add chopped chocolate and butter to melt. Then everything gets stirred together until the ganache is as smooth as silk.
Instant espresso works well in this ganache because it fully dissolves in the warm cream, creating that rich mocha flavor. But you could easily replace the instant stuff with 1/4 cup of lightly-cracked coffee beans or freshly ground coffee beans. Let it steep in the warm cream for about 10 minutes, then strain them out, using a double-layer of damp cheesecloth if using ground coffee. Bring the cream up to a simmer again, then turn it off and add the chocolate, butter and salt. If you're feeling really crazy, try using a mocha-flavored coffee beans, for a double hit of mocha flavor.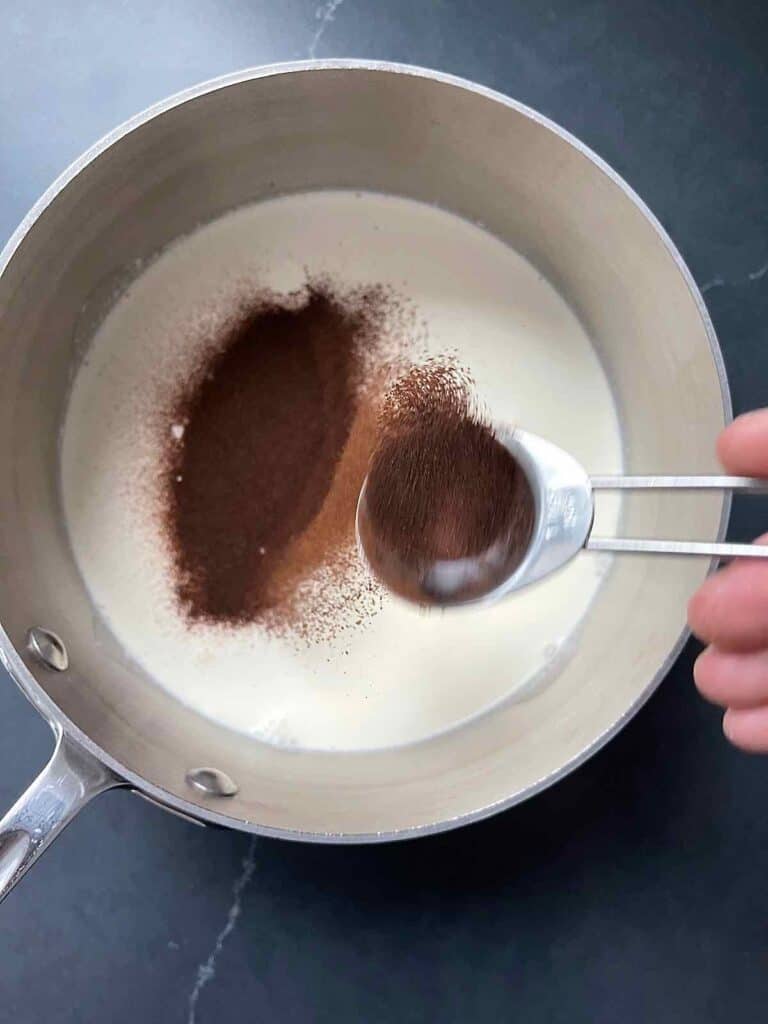 Once the ganache is ready, gently pour it into the crust and smooth the top with an offset spatula. Ladies and gents, good luck trying to resist licking that spatula!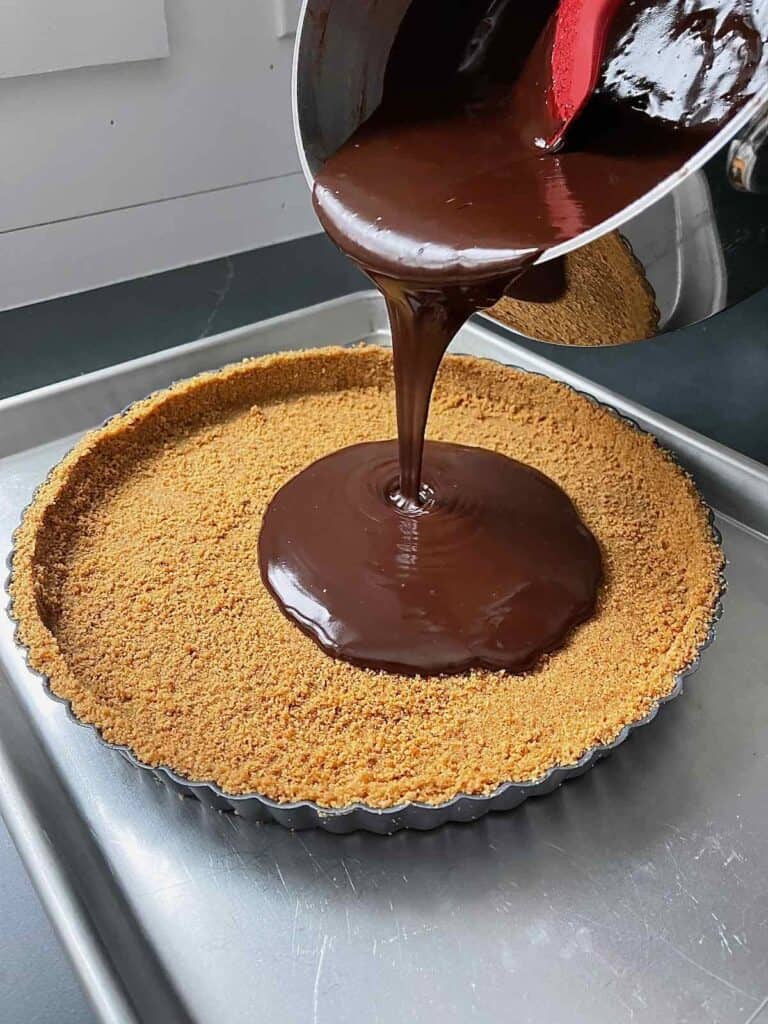 Can you believe that's it?? Well, one last thing: sprinkle the barely cooled tart with flakey salt and then let the chocolate tart set in the fridge for an hour or so. The cold tart is reminiscent of a decadent candy bar, but if you let it sit at room temp for about 30 minutes before serving, it's more of a cool, silky experience. Either way, holy goodness, you will love this tart!
If you're in the mood for a chocolate cake, you should definitely try my Red Wine Chocolate Snack Cake from Food & Wine! For more dessert recipes from yours truly, you can also check out my cookbooks!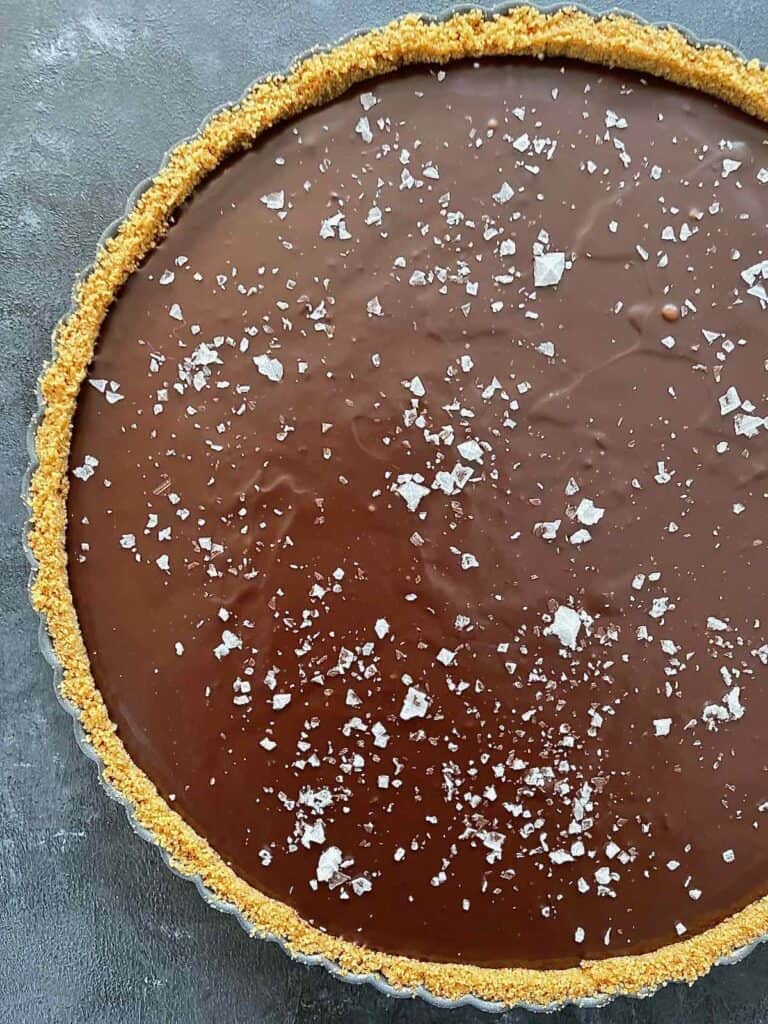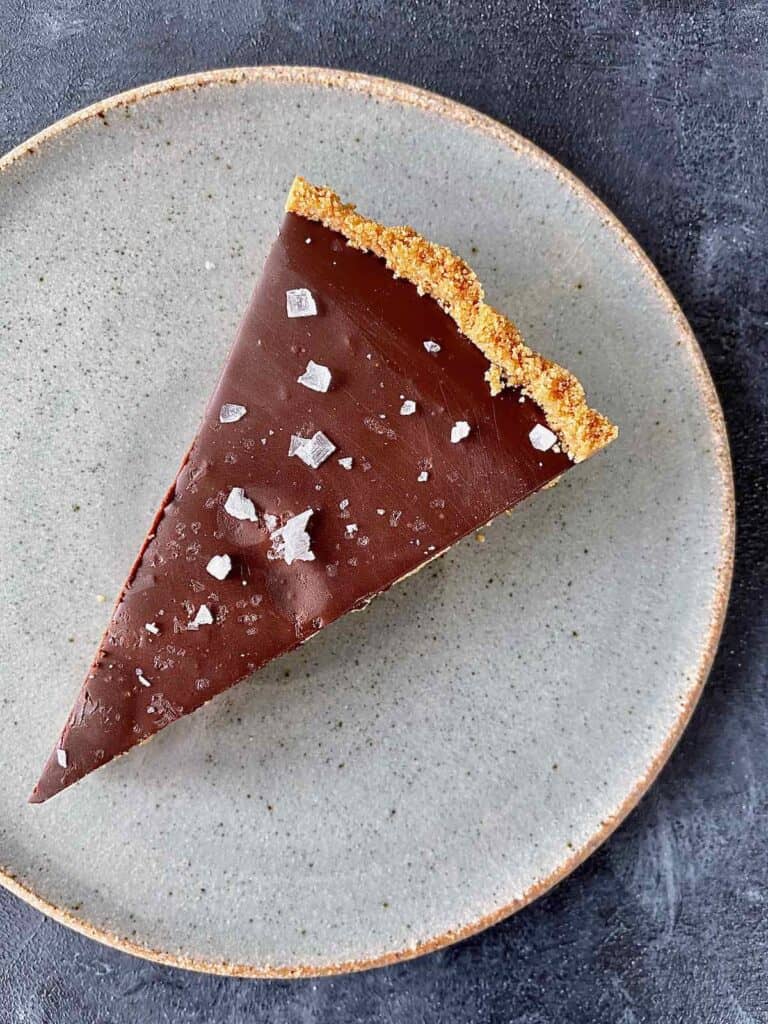 Salted Mocha Tart
This silky, rich, no-fuss, no-bake chocolate mocha tart is one of the easiest yet most decadent desserts ever. 
Ingredients
Crust
10 tablespoons unsalted butter
1 tablespoon sugar
¼ teaspoon kosher salt
1¾ cups graham cracker crumbs (from about 8 ounces or 14 whole crackers)
Filling
1¼ cups heavy cream
1 tablespoon instant espresso powder
12 ounces bittersweet chocolate, chopped
2 tablespoons unsalted butter, softened
Flaky sea salt, for sprinkling
Instructions
Crust
In a small saucepan, melt the butter with the sugar and salt over medium-low heat, stirring, until the sugar dissolves, about 4 minutes.

In a medium bowl, mix the graham cracker crumbs with the butter mixture until the crumbs are evenly moistened. Press the crumbs evenly over the bottom and up the side of a 9-inch tart pan with removeable bottom. Refrigerate the crust until firm and well chilled, 30 minutes to 1 hour. Alternately, freeze the tart shell for 10 to 15 minutes, until firm.
Filling
In a medium saucepan, bring the cream and espresso powder just to a simmer. Remove from the heat and add the chocolate, butter and salt. Let stand for 2 minutes, then stir gently until smooth and glossy. Scrape the ganache into the tart shell and, using an offset spatula, smooth the top.

Refrigerate the tart until the surface is just starting to set, 15 to 20 minutes. Sprinkle the top with flaky sea salt, then refrigerate until the tart is firm, about 1 hour more.

Carefully remove the tart from the ring and transfer to a cake plate or platter. cut the tart into wedges and serve.
Notes
DO AHEAD: The tart can be refrigerated in an airtight container or covered with plastic for up to 1 week. Alternately, the tart can be wrapped tightly in plastic and frozen for up to 1 month. SERVING SUGGESTION: I use 1 1/4 cups of cream in the ganache, which means you're likely to have some leftover. This is perfect! Whip the cream with just a bit of sugar and some vanilla, and serve big puffy dollops of it over the finished tart.