Cod Chowder with Crab & Chickpeas
Looking for a delicious chowder that's quick and easy enough for a weeknight dinner? With plenty of flaky cod, sweet crab, buttery chickpeas and a light, creamy broth, this cod chowder is destined to be your new favorite soup.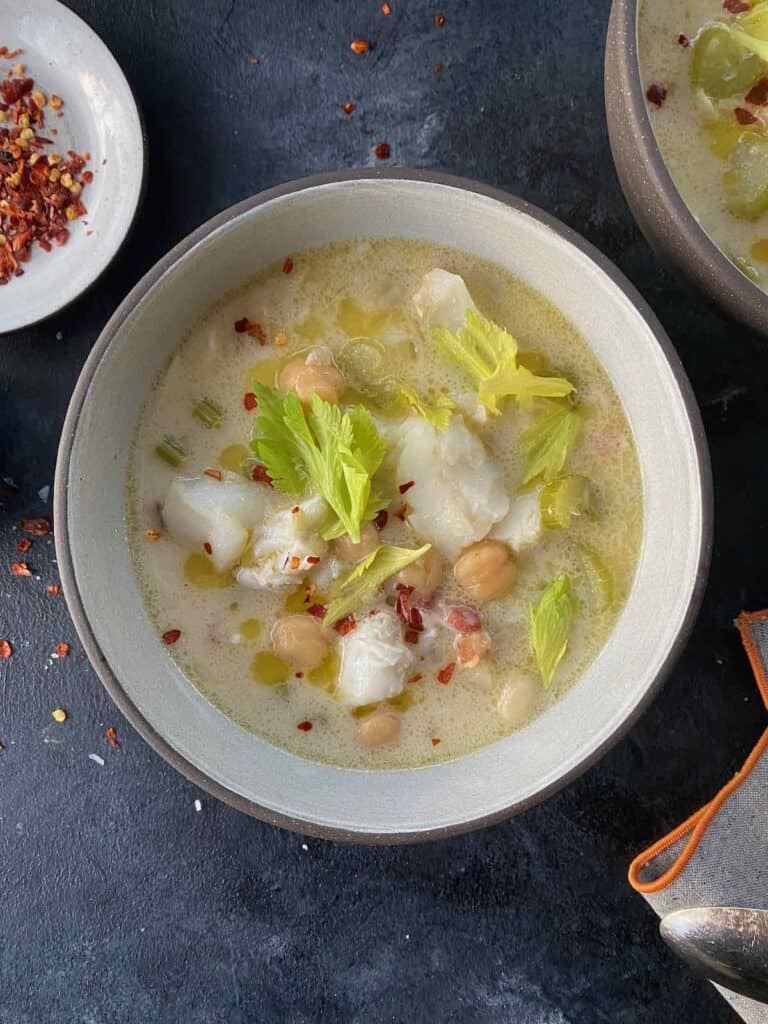 I can't believe how many people think seafood is an intimidating thing to cook! If you ask me, it's exactly the opposite. I mean, if you really think about it, some of the best seafood recipes require very little effort. I'm on a mission to get people to cook more seafood at home, starting with this soul-satisfying chowder, which features tender cod and sweet crab. To make the chowder a little more hearty (and to keep the seafood cost in check), I include a can of buttery chickpeas. Hollah!
Let's Make Cod Chowder!
The very best thing about a soup like this is that you can tinker with it and make it your own. If cod isn't your thing, try using halibut, haddock, hake, striped bass or grouper. You can also increase the amount of fish and skip the crab. However, I think the sweet crab adds a little something special to the chowder. As for the heavy cream, there's only 1/2 cup in the recipe, but if you're cream-shy (I know you're out there, friends), feel free to sub whole milk. And if you don't like chickpeas, go for another light-colored bean; butterbeans or cannellini would be great!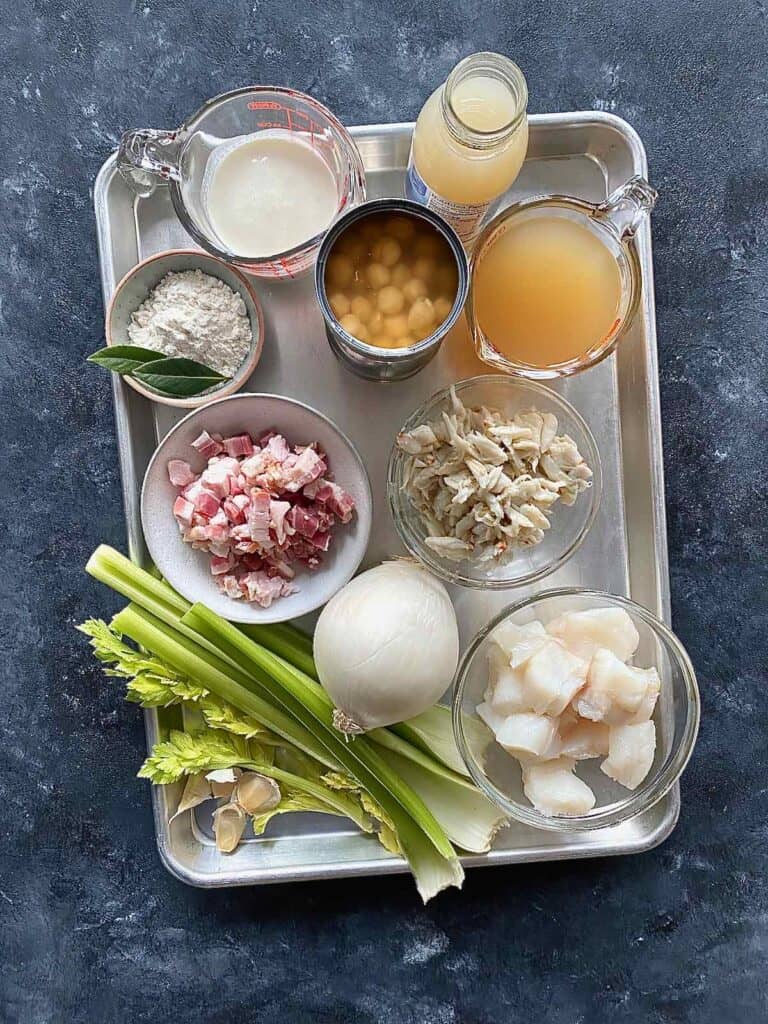 Get that Cod Chowder Started!
Most good soups start with a flavorful base that's cooked slowly enough to coax out a whole first layer of flavor. First, render the chopped bacon for that undeniable smokiness. After that, you'll want to cook celery, onion and garlic (aka your aromatics) in that bacon fat. Now that your kitchen is smelling like pure heaven, sprinkle in flour. Flour is the key to thickening the chowder.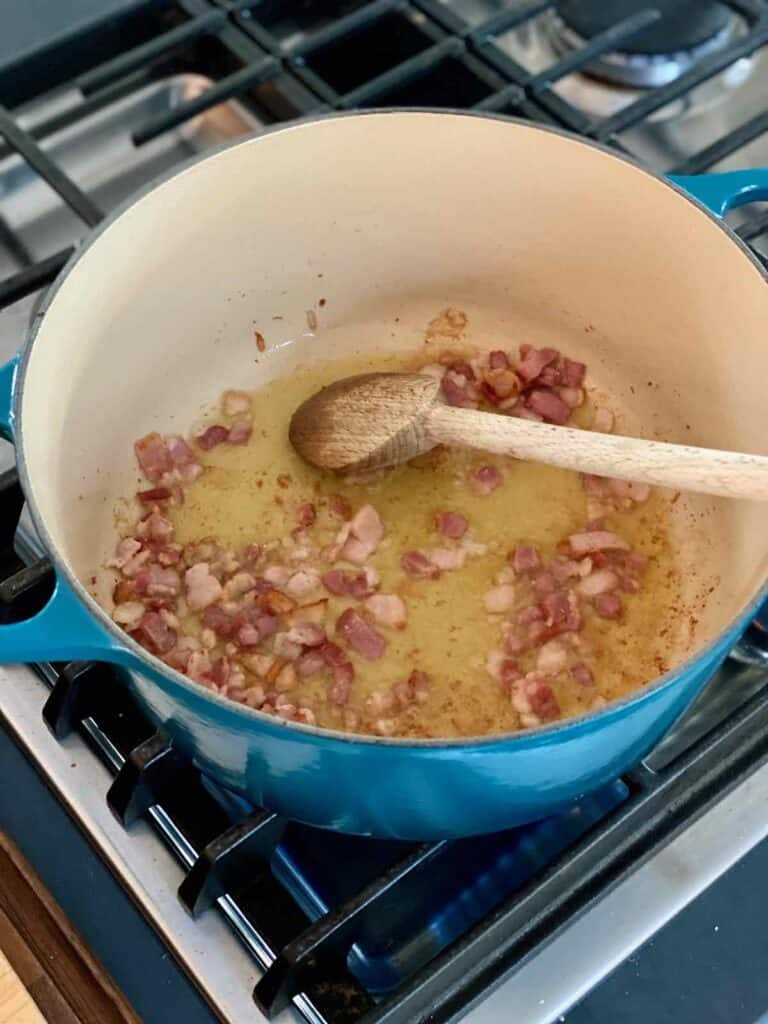 Clam Juice is Liquid Gold!
Once the flour is nicely coated on the bacon and veggies, gradually stir in your liquids. I use low-sodium chicken broth so I can control the level of salt in the soup. (I recommend keeping cans or cartons of broth in your pantry at all times.) Rather than buying fish stock, which can be inconsistent from brand to brand, I like using bottled clam juice (Bar Harbor is my favorite brand). Once those liquids are added, be sure to scrape up the browned bits on the bottom of the pot–they are packed with flavor that you want to incorporate into the chowder!
Bring it on Home!
You're in the home stretch now! Add the heavy cream and simmer the soup for a few minutes to thicken it and to allow the flavors to meld. Gently fold in the seafood and chickpeas to cook, and that's about it. I urge you to finish the chowder with some spicy crushed red pepper for a jolt of heat. You won't regret it!
By the way, if you are a seafood lover (like me!), you might also enjoy my Salmon with Haricots Verts & Tomatoes in Parchment!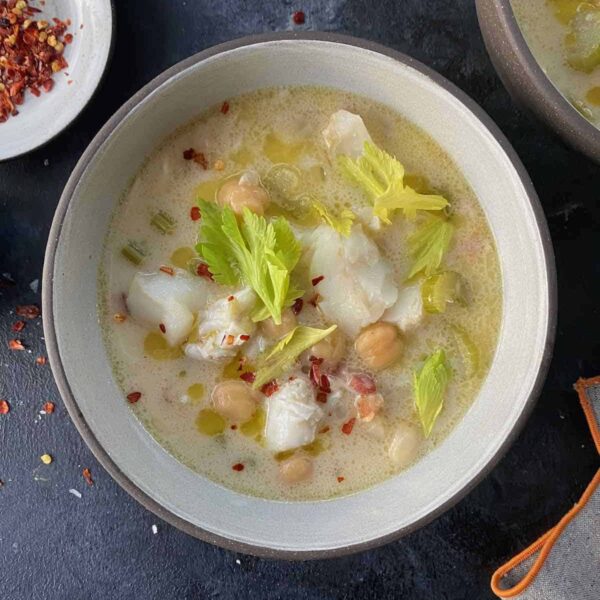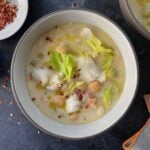 Cod Chowder with Crab and Chickpeas
With plenty of flaky cod, sweet crab, buttery chickpeas and a light, creamy broth, this seafood chowder is destined to be your new favorite soup.
Ingredients
2 tablespoons extra-virgin olive oil
3 slices bacon, finely chopped
4 celery ribs, chopped
1 large white onion, hopped
3 garlic cloves, finely chopped
Kosher salt and freshly ground black pepper
3 tablespoons all-purpose flour
3 (8-ounce) bottles clam juice
3 cups low-sodium chicken broth
½ cup heavy cream
2 bay leaves
1 pound cod or other white fish, cut into 1-inch pieces
6 ounces crabmeat, picked over
1 (15-ounce) can chickpeas, rinsed and drained
Celery leaves, for garnish
Crushed red pepper, for sprinkling, (optional)
Instructions
In a large saucepan or Dutch oven, cook the bacon in the olive oil over medium heat, stirring occasionally, until rendered but not crisp, about 5 minutes. Add the celery, onion, garlic and a generous pinch each of salt and pepper. Cook, stirring occasionally, until softened, about 8 minutes. Sprinkle the flour evenly on top and cook, stirring, until the vegetables are evenly coated, and a film starts to form on the bottom of the pan, about 2 minutes.

Gradually stir the clam juice and chicken broth into the vegetable mixture, scraping up any bits from the bottom of the pan. Add the heavy cream and bay leaves and bring the mixture just to a boil over medium-high heat. Reduce the heat to medium and simmer, stirring occasionally, until slightly thickened and no floury taste remains, about 7 minutes.

Stir in the chickpeas, then gently fold in the cod and crab. Cover and simmer over medium-low heat until the cod just flakes with a fork and the mixture is hot, 5 to 7 minutes. Season the chowder with salt and pepper. Ladle the chowder into bowls and garnish with celery leaves. Sprinkle with crushed red pepper, if using, and serve.