Baked Pasta with Sausage & Broccoli Rabe
Here's a baked pasta that's inspired by the classic combination of orecchiette, broccoli rabe, and sausage. It's delicious and comforting but, best of all, it's super adaptable. Don't like broccoli rabe? Use regular broccoli or kale! Vegetarian? Use a plant-based meat crumble! There are many ways to make this recipe your own, so get cooking.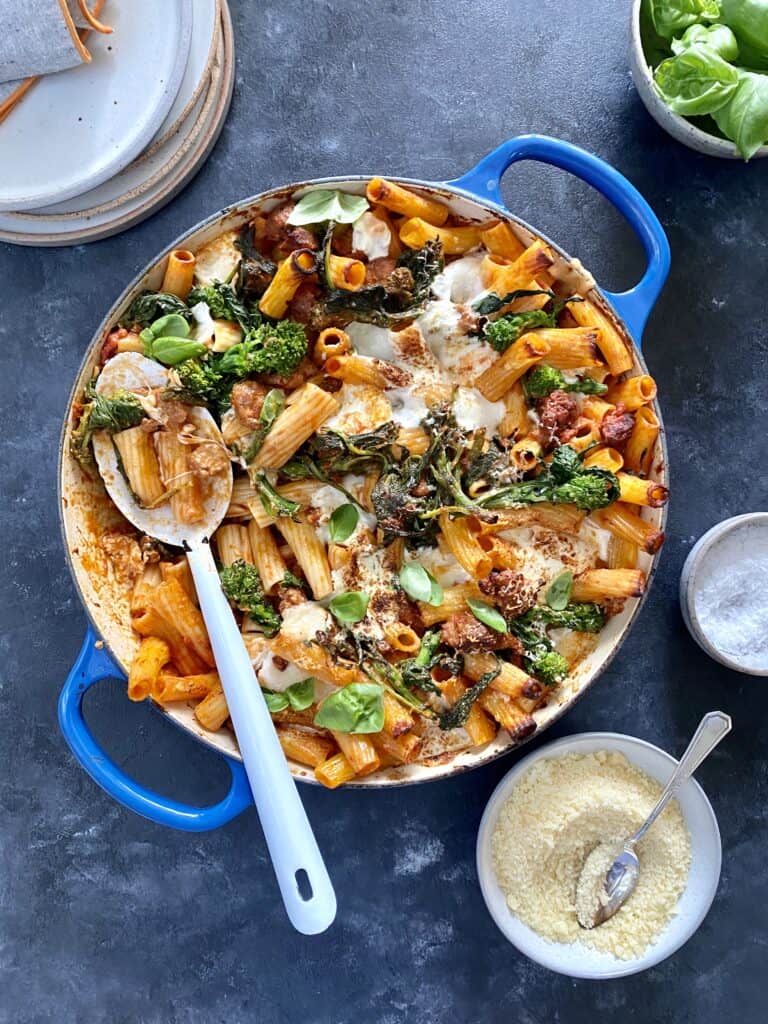 Honestly, everyday dinners can and should be special while also being fairly easy. All you need is a foolproof recipe (like the one here!) and a few great ingredients. Most days, I cook for one or two people, so I don't make baked pastas often. However, when that craving hits (and you know the craving I'm talking about!) mine is best subdued by this big, cheesy baked rigatoni. All that said, every home cook needs a baked ziti-type pasta recipe in their repertoire. For me, this is it!
Let's Make Baked Pasta!
It only takes a couple steps to get this pasta in the oven. It bakes for about 30 minutes, which is plenty of time to clean the kitchen and set the table.
First: doctor your sauce.
In a recent post about using store-bought fresh tortellini, I praised the use of already-prepared ingredients. In my opinion, marinara is a no-brainer for anyone looking to elevate their meals with little effort. I always keep good-quality jarred brands in the pantry. That's because I not only use it for meals but for recipe testing, too. If you come from a family that makes their own, even better. Either way, it'll be even more delicious with a little help from a few extra ingredients. Start by browning Italian sausage (hot or sweet) in some olive oil, then add some fennel seeds and cook until it smells all warm and toasty (yes, this is a technical recipe cue!) before adding your favorite marinara sauce.
Next: boil your pasta with your broccoli rabe!
The trick to incorporating a vegetable that might need a bit of cooking first, such as broccoli rabe (aka rapini), kale, or swiss chard, is to add it to the pasta pot during the last 2 to 3 minutes of cooking. It'll cook just enough that it'll be crisp-tender after baking. In addition, it'll mingle with the pasta and its starchy water. That little bit of time helps jump-start the melding of flavors. Be sure to save 3/4 cup of the pasta cooking water before draining.
Lastly: introduce all the ingredients, then bake!
In the empty pasta pot, mix together the pasta, broccoli rabe, sauce, and reserved pasta cooking water. Now, this next step albeit simple, is crucial… To ensure a gooey center as well as a cheesy top, stir only half the cheese into the pasta mixture. After transferring to your baking vessel, scatter the remaining cheese on top, then get that baby in the preheated oven for 25 to 30 minutes.
If your nose doesn't tell you it's ready, the bubbling and browned top will. Bring the dish right to the table and garnish with fresh basil leaves (pro tip: using tiny basil leaves make it feel special and look extra pretty). Serve this with a big green salad and garlic bread. Don't forget to pass extra parmesan at the table.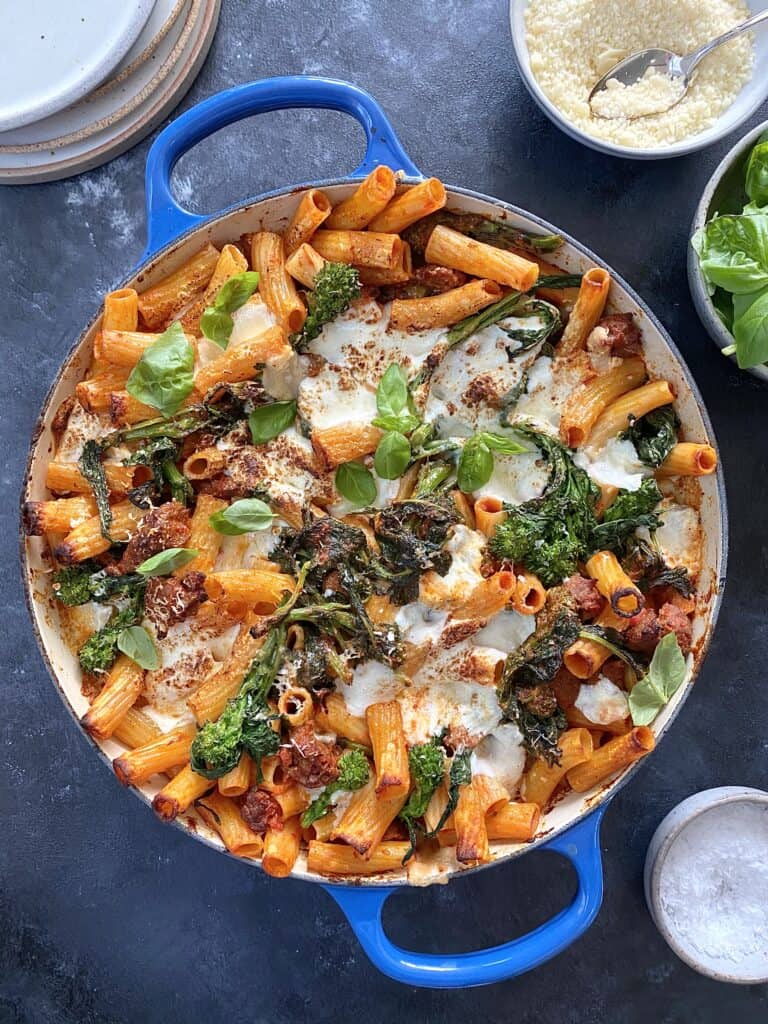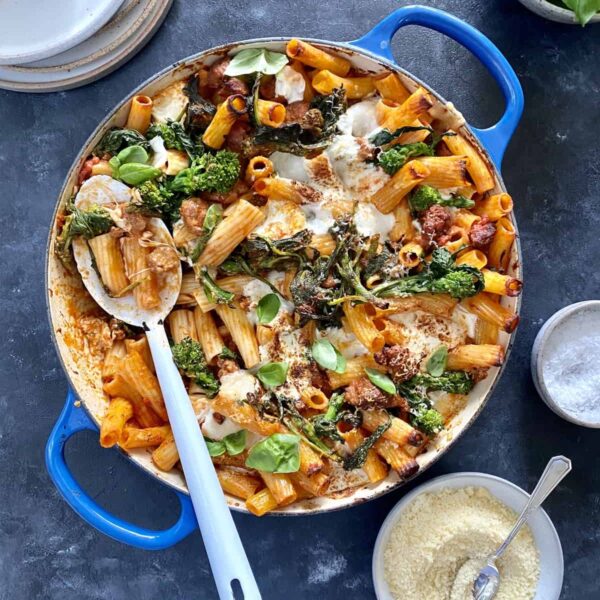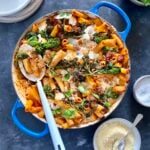 Baked Pasta with Sausage & Broccoli Rabe
This gooey baked pasta is inspired by the classic combo of broccoli rabe and sausage. It's delicious, comforting and super adaptable, too. Don't like broccoli rabe? Use regular broccoli or kale! Vegetarian? Use a plant-based meat crumble! There are many ways to make this recipe your own, so get cooking!
Ingredients
1 tablespoon extra-virgin olive oil
1 pound sweet or hot Italian sausage, casings removed
1 teaspoon fennel seeds
24 ounces jar marinara sauce
Kosher salt and freshly ground pepper
1 pound rigatoni or other short pasta
1 pound broccoli rabe, chopped
1/3 cup heavy cream
1 pound mozzarella, torn into bite-size pieces
2/3 cup finely grated parmesan cheese
Basil leaves, for garnish
Instructions
Preheat the oven to 400°F. In a large, deep, ovenproof skillet or braiser pan, cook the sausage in the olive oil over medium-high heat, breaking up the meat with a wooden spoon, until nicely browned and cooked through, 8 to 10 minutes. Add the fennel seeds and cook until fragrant, about 1 minute. Add the marinara sauce and bring to a simmer. Season the sauce with salt and pepper.

In a pot of boiling water, cook the pasta 2 minutes less than the package suggests. Add the broccoli rabe and cook with the pasta for 1 minute. Scoop out ¾ cup of the pasta water, then drain the pasta in a colander. Return the pasta and broccoli rabe to the pot. Fold in the sauce, heavy cream, reserved pasta water, and half of the mozzarella and parmesan cheeses.

Transfer the mixture to the skillet or braiser pan and scatter the remaining cheeses on top. Bake for 25 to 30 minutes, until bubbling and browned. Let stand for a few minutes, then garnish with basil and serve.