Brothy Chickpeas with Eggs and Greens
Chickpeas, greens and hot chiles are simmered in broth that's steeped with shallot and garlic. Topped with poached eggs, these brothy chickpeas are a light but super satisfying 30-minute dish.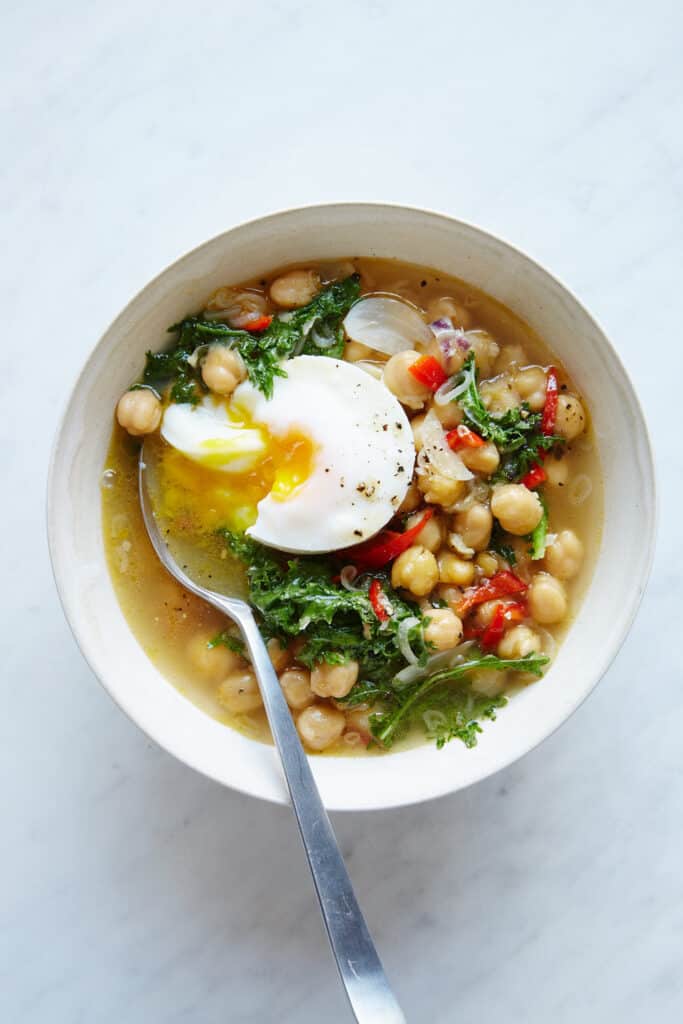 I originally developed this recipe for my first cookbook, Mad Genius Tips, which is a collection of recipes from my Food & Wine video series with the same name. I recorded a fun video for the series on how to poach eggs in the oven using a muffin tin. The video was wildly popular when it first aired and I immediately wanted to create recipes for ways of using the oven-poached eggs that were a little more exciting than just an everyday breakfast dish.
These brothy chickpeas with wilted greens were one of the recipes I created to accompany the eggs. Another recipe I created to showcase these easy eggs was my Warm Lentils with Smoked Trout and Poached Eggs from Food & Wine. Of course, I couldn't NOT develop at least one recipe that was breakfast-y, so I also made an Open-Face Egg and Griddles Ham Sandwich that I really do adore.
Although the oven-poached eggs in this recipe seem like the star, you really can top the brothy chickpeas with a eggs cooked any which way! Fried? Perfect. Scrambled? Not my first choice, but sure! Traditional poached egg? Even better. I hope you enjoy this recipe and I highly recommend checking out both my Mad Genius Tips book and my videos when you get the chance!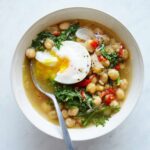 Brothy Chickpeas with Eggs and Greens
Ingredients
6 large eggs
Kosher salt and freshly ground black pepper
1/4 cup extra-virgin olive oil
4 shallots, thinly sliced
6 garlic cloves, thinly sliced
1 Fresno chile or jalapeño, seeded and thinly sliced
Two 15-ounce can chickpeas, rinsed and drained
2 1/2 cups low-sodium chicken broth
4 ounces mustard greens or kale, stemmed and leaves torn
Instructions
Preheat the oven to 350 degrees F. Pour 1 tablespoon of water into 6 cups of a muffin pan. Crack an egg into each of the 6 water-filled cups and season with salt and pepper. Bake the eggs for 13 to 15 minutes, until the whites are just firm and the yolks are still runny. Using a slotted spoon, immediately transfer the eggs to a plate.

Meanwhile, in a large skillet, heat the olive oil. Add the shallots, garlic and chile and cook over moderate heat until softened, about 5 minutes. Stir in the chickpeas and stock and bring to a boil. Add the mustard greens or kale and cook until just wilted, about 3 minutes. Season with salt and pepper. Ladle into bowls, top with the eggs and serve.